Raise a Floppa - The Loop
Play Sound
The first edition of the Bloxy Awards were held during the 2013 BLOXCon event. This Hall of Fame spanned four BLOXCons (London, New York City, Chicago, and a virtual BLOXCon) and had over 20 awards.[1]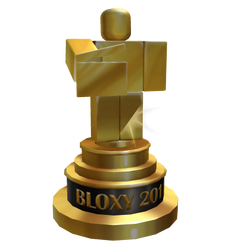 The first part was a part of the Roblox Film Festival, where players submitted videos that fell into one of five categories:
Chicago/London/New York City (2 minutes max): Represent Chicago, IL, London, UK, or New York, NY
Short Film/Machinima (3 minutes max): Original short story – drama, action, comedy, etc. – built with Roblox machinima
Trailer (90 seconds max): Create a trailer for a game, movie or television series – real or totally fictitious
Commercial (30 seconds max): Create the ultimate commercial, highlighting Builders Club or the limitless possibilities of Roblox
Building/physics showcases (1 minute max): Footage of yourself building something awesome – a place or physics contraption (e.g., Rube Goldberg machine) – and speed the footage way up to show the whole process
After the videos were submitted, players had a week-long voting period to vote for the nominees of each video category. Roblox Staff then announced the nominees for each BLOXCon, meaning that each BLOXCon would have a winner for each video category.[2]
The second part of the Bloxy awards was a Hall of Fame where administrators gave awards to Roblox builders. Like with the Roblox Film Festival, players had the opportunity to vote for the winners.
Winners
BLOXCon Chicago [3]
Category
Nominees
Winner
ROBLOX Film Festival
Building Showcase
Hand of Hephaestus by Ratwise
ROBLOX Commercial
"Limitless Possibilities" by dom2d2
City-Themed Short
Chicago Tourist Guide by Ravenshield
Short Film/Machinima
Boardroom Suggestion by SuperSy, Dino77 and bunnybunn263
Trailer
Builderman by spideyrulz
Hall of Fame
Most Active Group
First Encounter Assault Recon
Top Earning Game
Sword Fighting Tournament by TheGamer101
Best Recreation of a Real-World Place
City of Rome, Italy by Juliane14 and ITA
Users' Choice, Best Survival Game
Apocalypse Rising by Gusmanak
Users' Choice, Most Creative Game:
The Stalker by CloneTrooper1019
Place of the Year
The Wind by asimo3089
BLOXCon London
This will be added soon.
BLOXCon New York City
This will be added soon.
Virtual BLOXCon
Main Article: Virtual BLOXcon 2013
References
↑ Andrew Haak (2013). Vote for the Final ROBLOX Hall of Fame 2013 Winners. Roblox Blog. Retrieved from [1]
↑ Andrew Haak (2013). The Roblox Film Festival Is Now Accepting Submissions! Roblox Blog. Retrieved from [2]