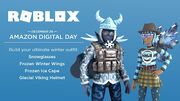 The 
Amazon Digital Day Sale
2018 
was a sale for users who play the
Roblox
app from the
Amazon Appstore
. The sale started on December 27, 2018 and ended on December 29, 2018. Roblox discounted 4 items: Snowglasses, Frozen Winter Wings, Glacial Viking Helmet, and Frozen Ice Cape.
Trivia
This is believed to be the first and only time Roblox has done a sale like this.
It was originally unknown whether when the sale is over Roblox was to take the items off sale or change them back to their original price. But, on previous Amazon exclusive items they changed the price back afterwards.
Roblox did not publicly say anything about this until a day after the sale started. (Their tweet)
Roblox started this sale a day early. According to the items discounted descriptions, they were meant to be discounted on December 28 and go back to their original price on December 29, yet all of the prices were reduced on December 27.
The best deal of the sale was the Frozen Ice Cape being only 150 robux, since it is usually 750 robux.
In Roblox's tweet mentioning this going on, they did not call it a sale, but it technically is because they discounted items.
Community content is available under
CC-BY-SA
unless otherwise noted.