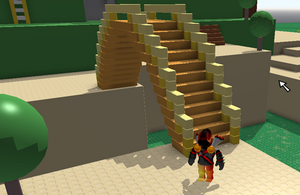 Screen Space Ambient Occlusion (also known as ambient shadows)[1] was a Roblox Studio feature released on January 28, 2011, along with Updated Graphics. It could only be seen on max graphics settings. Mac support for Ambient shadows was supposed to be implemented by Summer 2013, but was canceled when ambient shadows was replaced with Dynamic Lighting in 2013.
Trivia
This section is a trivia section. Please relocate any relevant information into other sections of the article.
Roblox would automatically turn off this feature if it detects the user receiving less than 30 FPS because of the shadows.
References
Community content is available under
CC-BY-SA
unless otherwise noted.