UGC
items should
NOT
be added to this page.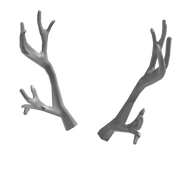 The Antlers series consists of many pairs of deer antlers with varying textures. The series originates from the Wanwood Antlers, and are very popular with most of the community. The vast majority of them are offsale as they are usually only brought back for special sales or came out of gifts.
As of February 19, 2019, there are 18 different pairs of traditional Antlers on the catalog. Only the Wanwood, Golden, and Adurite pairs are limited while the remaining 15 pairs are currently offsale.
Traditional
Other
Community content is available under
CC-BY-SA
unless otherwise noted.