Information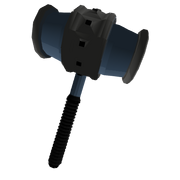 A ban is a form of account suspension that can occur when a player violates the Terms of Use on Roblox. Players are typically given warnings on their first few offenses, and the amount of warnings a user can obtain before getting an actual ban varies.
Repeated instances of a player being warned or banned can increase the likelihood of their next punishment being an account deletion (also referred to as a termination). If the violation is serious, such as phishing, scamming or violation of federal law, accounts can be deleted without any prior notices or commands.
Additionally, some places may block access to specific players and theoretically ban them; this usually occurs in group-run places with restrictions imposed on other groups or users. A player who is banned from a specific game is immediately kicked from the server. This can also happen to any player if a server is locked by an in-game admin or moderator.
Robloxians are unable to view the profiles of deleted accounts. A bug on January 15, 2014, gave users access to terminated account profiles. Moderators initially claimed that the bug was a new update. However,
Arbolito
, a Roblox user, confirmed that this was an error with Roblox's programming and was later nullified.
[citation needed]
Ban Level
Bans can be severe or minor depending on the offense. Users can be banned for different lengths of time.
Users who violate Roblox's Terms of Service will be given one of these reprimands. These can range from warnings to permanent IP bans.
Moderator Notes
This list is incomplete; you can help by expanding it.
Depending on what violation the player has done, these moderator notes are given to each ban, warning or reminder, or account deletion:
Moderator Note

Warning

1-Day Ban
3-Day Ban
7-Day Ban
14-Day Ban

Account Deletion

English: This image is not appropriate for Roblox. Please review our rules and only upload appropriate content.

Spanish:

Esta imagen no es apropiada para Roblox. Por favor, revise nuestras reglas y solo cargue el contenido apropiado. [1]

✓
✓
✓
✓
✓
✓
Your account has been deleted for creating, promoting, or participating in inappropriate behavior or content. This is a violation of our Terms of Use.
✗
✗
✗
✗
✗
✓
This content is not appropriate for Roblox. Content or avatars created to simulate nudity or underwear/undergarments are not permitted.
✓
✓
✓
✓
✓
✓
This content is not appropriate. Hate speech is not permitted on Roblox./Roblox does not permit discriminatory speech, content, or actions based on race or ethnic origin, national origin, religion or religious affiliation, gender, gender identity, or sexual orientation.
✗
✗
✓
✓
✓
✓
This content is not appropriate for Roblox. Do not chat, post or otherwise discuss inappropriate topics on Roblox.
✓
✓
✓
✓
✓
✓
Your account has been deleted, as per your parent's request.
✗
✗
✗
✗
✗
✓
Do not upload excessively loud audio to Roblox.
✓
✓
✓
✓
✓
✓
We're sorry, but due to a request from the copyright holder, we cannot permit this content on Roblox.
✓
✗
✗
✗
✗
✗
Please make sure all text are readable. If we cannot read the text in your image, it will not be permitted on Roblox.
✓
✗
✗
✗
✗
✗
Please do not create games, shirts, or post comments about this tragic event. We understand that you intended this to be a respectful memorial, but we can't risk having other players behave in an inappropriate manner in or around the content you're posting.
✓
✓
✓
✓
✓
✓
Adult content is not tolerated on Roblox!
✓
✗
✓
✓
✓
✓
This account has been closed due to violating Roblox terms of service.
✗
✗
✗
✗
✗
✓
Your account has been deleted for theft of an account and/or it's assets
✗
✗
✗
✗
✗
✓
Account has been deleted for unauthorized/disputed charges.
✗
✗
✗
✗
✗
✓
Dating is not permitted on Roblox.
✓
✓
✓
✓
✓
✓
Dating, sexting, or other inappropriate behavior is not permitted on Roblox.
✓
✓
✓
✓
✓
✓
Do not repeatedly post spam chat or content in Roblox.
✓
✓
✓
✓
✓
✓
This audio file contains content that is inappropriate for Roblox.
✓
✓
✓
✓
✓
✓
Your username is inappropriate for Roblox.
✗
✗
✗
✗
✗
✓
Your account has been deleted for violating the Terms of Service for account theft.
✗
✗
✗
✗
✗
✓
Your account has been deleted for violating the Terms of Service for inappropriate behavior.
✗
✗
✗
✗
✗
✓

Account suspended for billing review.

✗
✗
✗
✓
✓
✓
This is your final warning. Your account has been suspended for continuing to violate our Terms of Use by exploiting. If you continue, your account and all of your associated accounts will be deleted.
✗
✓
✓
✗
✗
✗
We're sorry, but selfies or other personal photos are not permitted on Roblox.
✗
✓
✓
✓
✓
✓
Please do not upload personal photos to Roblox.
✓
✗
✗
✗
✗
✗
Do not harass other users. Do not say inappropriate or mean things about others on Roblox.
✓
✓
✓
✓
✓
✓
Dating and shipping images are not permitted on Roblox.
✓
✗
✗
✗
✗
✗
Scamming is a violation of the Terms of Service. Do not continue to scam on Roblox.
✓
✓
✓
✓
✓
✓
Do not use profanity or otherwise say inappropriate things in Roblox.
✓
✓
✓
✓
✓
✓
The only links you are allowed to share in are roblox.com, youtube.com, twitter.com, and twitch.tv. Posting other links even in images will result in further moderation actions to your account.
✓
✓
✓
✓
✓
✓
Your account has been deleted for violating the Terms of Service
✗
✗
✗
✗
✗
✓

Impersonating Roblox staff is a violation of our rules. If you continue to do so, your account will be subject to additional moderation actions. [13]

✓
✓
✓
✓
✓
✗
Your account has been suspended for violating our Terms of Use for exploiting. If you continue, your account and all of your associated accounts will be deleted.
✗
✓
✓
✓
✓
✓
Your username is not appropriate for Roblox due to privacy concerns.
✗
✗
✗
✗
✗
✓
Your account has been deleted for violating the Terms of Use for exploiting the audio refunds system.
✗
✗
✗
✗
✗
✓
Your account has been deleted for violating our Terms of Use for exploiting
✗
✗
✗ 
✗
✗
✓
Do not ask for or give out personal, real-life, or private information on Roblox.
✓
✓
✓
✓
✓
✓

Account deleted due to disputed unauthorized charges. Do not make unauthorized charges on any Roblox account.

✗
✗
✗
✗
✗
✓
Exploiting is not permitted on Roblox.
✗
✓
✓
✓
✓
✓
Do not create accounts just for the purpose of breaking the terms of service.
✗
✗
✗
✗
✗
✓
Your account has been deleted for violating the Terms of Use for repeatedly creating inappropriate content.
✗
✗
✗
✗
✗
✓
Uploading distorted audio files are not permitted. Please make sure your files can be easily and clearly heard.
✗
✓
✗
✗
✗
✗
Do not create ads that claim to pay players for joining your group. Because Roblox cannot enforce these deals, they are a violation of the rules. Further attempts to create these ads will result in additional moderation actions on your account.
✓
✓
✓
✓
✓
✓

Do not continue to stream forum raiding on Twitch.

(note: this moderator note has only been publicly seen once in a stream by Quackity)

✗
✗
✗
✗
✓
✓
Do not post about your moderation actions, or additional moderation actions may be taken against your account. If you would like to discuss your bans, please use the Appeals system as described on your ban report.
✓
✓
✓
✓
✓
✓
After further review, this account has been deleted for making unauthorized charges. Always have permission before making any purchases.
✗
✗
✗
✗
✗
✓
This asset is not appropriate for Roblox. Please review our rules and upload appropriate content.
✓
✓
✓
✓
✓
✓
Do not use player's work without their permission Stealing and posting of other user is against the Roblox rules, continuing to do so will result in your account's termination.
✓
✓
✓
✓
✓
✓
This account has been closed due to a violation of our Terms of Service. Do not create games intended to scam other players.
✗
✗
✗
✗
✗
✓
The only links you are allowed to post on Roblox are roblox.com links, youtube.com links, twitter.com links, and twitch.tv links, No other links are allowed. Posting any other links will result in further moderation actions to your account.
✓
✓
✓
✓
✓
✓
Please do not create ads which encourage players to try to click them multiple times. We understand that you want as many people to visit your place as possible; however, these ads are not permitted on Roblox.
✓
✗
✗
✗
✗
✗
It is in violation of the TOS to buy and sell ROBLOX virtual items or currency for real-world compensation.
✗
✗
✗
✗
✗
✓

Closed as a compromised account.

✗
✗
✗
✗
✗
✓
Your account has been moderated for violating the Terms of Service for games with improperly filtered chat. Please see your PMs for more information, after your suspension has been completed.
✓
✓
?
?
?
?
Your account has been deleted for violating the Terms of Service for games with improperly filtered chat.
✗
✗
✗
✗
✗
✓
Uploading stolen game copies of any game is not permitted on Roblox.
✗
✗
✗
✗
✗
✓
This account has been deleted for disputed charges. Always have permission before making any purchase.
✗
✗
✗
✗
✗
✓
We're sorry, but due to a DMCA request from the copyright holder, items may have been removed or changed in your account. Further inappropriate use of copyrighted material may result in the termination of your account. Please check your PMs for more information. 
✓
✗
✗
✗
✗
✗
The derogatory language you are using here is not permitted on Roblox.
✗
✗
✓
✓
✓
✓
Posting information that claims to be able to exploit Roblox is a violation of our Terms of Service. If you continue to do so, your account will be subject to further moderation actions.
✓
✓
✓
✗
✗
✗
Your user name is inappropriate for Roblox and needs to be changed. If you have a verified email on your account, you will receive an email with an updated user name. If you do not have a verified email, please contact info@roblox.com for assistance. 
✗
✗
✗
✓
✓
✓
Do not create games that offer Robux as a prize. These kinds of games are considered scams, as there is not an official system to guarantee a prize. If you persist in creating these games, your account will be subject to additional moderation actions.
✓
✓
✓
✓
✓
✓
Advertising Robux payouts are prohibited as there is not a system that ensures specific rules are followed or that the offered prize is granted. We realize you did not intend to scam, but please do not offer these on Roblox.
✓
✗
✗
✗
✗
✗
Your account has been deleted for making disputed/unauthorized charges.
✗
✗
✗
✗
✗
✓
Do not create games intended to scam other players!
✓
✓
✓
✓
✓
✓
This image is too revealing for Roblox. Please edit this image to make it more age-appropriate.
✓
✗
✗
✗
✗
✗
Creating items with the intent of trying to get around Roblox's rules is not permitted.
✓
?
?
?
?
?
Clothing featuring red armbands are not permitted on Roblox.
✓
?
?
?
?
?
Uploading distorted audio files are not permitted. Please make sure your files can be easily and clearly heard.
✓
✗
✗
✗
✗
✗
Unfortunately, we are not able to play this audio file, even after opening it with VLC. Please re-encode your file and try uploading it again.
✓
✗
✗
✗
✗
✗
Your account has been closed due to violations of our DMCA Repeat Infringer policy. Please review our Terms of Service for additional information.
✗
✗
✗
✗
✗

✓

Your account has been deleted for botting, ban evasion, and continued violations of the Terms of Use.
✗
✗
✗
✗
✗
✓
This account has been closed due to exploiting and/or botting behavior.
✗
✗
✗
✗
✗
✓
Do not raid my game "Trade Hangout" to harass other users.
✗
✓
✗
✗
✗
✗
Your account has been deleted for violating the Terms of Use for creating false and misleading content.
✗
✗
✗
✗
✗
✓
Your account has been deleted for violating the Terms of Service for using an exploit to create an account.
✗
✗
✗
✗
✗
✓
This account has been closed for violating our Terms of Service. You are not welcome on Roblox.
✗
✗
✗
✗
✗
✓
Contact Customer Service. appeals@roblox.com
✗
✗
✗
✗
✗
✓
Mass deleting,accounts were either caught creating sex games or purchasing privileges in sex games.If an appeal is received, please review and reopen if the account is legitimate.
✗
✗
✗
✗
✗
✓
Having adult content within your game's scripts has resulted in the deletion of your game.
✗
✗
✓
✗
✗
✗
Your name is innappropriate as it is a real life name. Please create a new account with a name that is not a real life name and a safety concern
✗
✗
✗
✗
✗
✓
Your account has been deleted as per your request. Thank you for being a part of the Roblox community.
✗
✗
✗
✗
✗
✓
Please do not create accounts for the purpose of making names not being able to be used
✗
✗
✗
✗
✗
✓
Former Names
Former Moderator Notes
Roblox ToS Violation '''
Please don't spam on Roblox.[1]
Scripters forum is NOT the place for learning java. Read the rules.
This is your last warning before your account is permanently deleted and you are not welcome on Roblox. Do not continue to harass other players or otherwise break the rules.
You have repeatedly bullied other players on this site. You have made multiple games and images showing the deaths of other players on this site. You have been warned many, many times that your behavior was inappropriate. Your account is now deleted.
Bad username.
Do not post bad links.
Do not swear
Do not scam
Your account has been deleted for violating the Terms of Service for online dating.
Your account has been deleted for violating the Terms of Service.
Your account has been deleted for violating the Terms and Conditions of Service.
This content is not appropriate. Do not chat, post, or otherwise discuss inappropriate topics on Roblox. You have been warned repeatedly not to post about inappropriate topics on the forum. This account is being terminated due to repeated violations of Roblox's Terms and Conditions of Service.
Asking or offering to take nude pictures is against the rules and will not be tolerated. Your account has been deleted!
Deleted by Parent Request; Billing policy
Your account has been deleted for uploading inappropriate assets to Roblox. The billing has been canceled.
Do not violate the Terms of Roblox
Your account has been terminated for violating the Terms of Use of Roblox.
Do not spam or create inappropriate threads on the Roblox Forums.
Do not repeatedly post or spam chat or content in Roblox.
Your behavior is not permitted on Roblox.
Your behaviour is not permitted on Roblox.
Do not post spam.
Your account has been deleted for continuing to violate the Terms of Service by hosting free Robux giveaways which are frequently used to scam the community.
Don't say inappropriate things on Roblox.
Your account has numerous offenses and is now deleted. You were warned and moderated several times yet you continued to break the rules.
Do not exploit to get games on the front page!
Contact us at info@roblox.com
Your account has been suspended for violating the Terms of Use for exploiting catalog purchasing. If you do this again your account will be permanently closed.
This account has been closed as a compromised account. Do not access accounts that do not belong to you.
This account was stolen.
This account has been closed as a compromised account and will not be reopened.
This account has been closed. Do not steal accounts!
This is your only warning. Do not create accounts to break the rules. Do not threaten or harass any other users or Roblox employees. If you continue to do so, all of your accounts will be deleted and you will not be welcome on Roblox.
Drug reference.
You are not welcome on Roblox.
Do not create accounts for breaking the rules.
This account has been deleted for making unauthorized charges. Always have permission before making any purchases.
Your account has been deleted for making inappropriate username. You are not welcome on Roblox.
Your account has been deleted for making inappropriate username.
Your account has been deleted for making inappropriate password.
Your account has been deleted for making inappropriate birthday.
Your account has been deleted for making inappropriate gender.
This is called "trolling". You are trying to pick a fight on the forum, and that is not permitted.
This is an inappropriate name on ROBLOX.
Don't talk about inappropriate topics on ROBLOX. Please let a moderator know about scam links by using the Report Abuse link.
This account has been closed as compromised.
This account has been closed as a compromised account.
Your account has been deleted as per your request.
Your account has been suspended for billing review.
Purchasing Robux and item for the 3rd party sites is against the TOS.
Your account has been deleted for repeated scamming.
Your account has been deleted as per your parent's request.
No longer welcome at ROBLOX.
Your account has been deleted for making an inappropriate game.
RT vs OT = ban.
This image is not appropriate for Roblox. Sexual Images are not allowed on Roblox. Please review our rules and upload appropriate content.
Account selling/trading is not allowed on ROBLOX.
Don't repeatedly say inappropriate or mean things about others on ROBLOX!
Do not upload pictures of real people.
Do not post about religion or politics on the forum. Your are welcome to discuss these topics on a group wall or in private chats with other players, but they are not appropriate conversation topics for the forum as they are too often a target for inflammatory remarks. Posting about religion and/or politics on the forum will result in moderation actions.
Account closed for participating in economic disruption.
You are continually breaking the rules. You post harassing, racist comments and hate speech even after numerous warnings and bans. Your account has been deleted.
Deleted for continuous swearing and not observing the rules.
(No Moderator Note)
This account has been closed due to unauthorized credit card charges.
Inappropriate Username.
Your account has been terminated from ROBLOX.
Your behavior is not tolerated on ROBLOX.
Your behaviour is not tolerated on ROBLOX.
Banned from ROBLOX.
Your account has been suspended from ROBLOX for 1 day.
Your account has been suspended from ROBLOX for 3 days.
Your account has been suspended from ROBLOX for 1 week.
Your account has been suspended from ROBLOX for 2 weeks.
Deleted per parent requests.
contact us at info@roblox.com
Please don't scam on ROBLOX.
Closed due to too many moderation actions and bad attitude for ROBLOX.
Intentionally published a script that crashes places
This account is a stolen account.
Do not steal accounts!
Do not clickbait on ROBLOX.
Do not steal from ROBLOX!
This image is not appropriate for Roblox. This image is too revealing for Roblox. Please read our rules and only upload appropriate content.
Alcohol reference.
Do not use inappropriate language on the ROBLOX website.
This account has been delted for reported unauthorized charges. Please make sure that you always have permission before making a payment.
Scammer
Banned user alts are not allowed on Roblox.
You have violated our terms of service. Your account has been disabled.
This Game file contains stolen game that is inappropriate for Roblox.
This is your final warning. If you continue to spam the ROBLOX chat, you will be poison banned.
Account Deleted for Unauthorized Charge
Account closed due to creating a group for the purpose of sharing scripts and perpetuating exploits on ROBLOX in the form of force fields, loopkills, etc. Destroying the game for other players is not allowed on ROBLOX.
account deleted due to unauthorized charge
Disagreeing with the rules isn't much of an excuse, is it? This is spam. You are not allowed to post about competitor games on the forums.
We don't use bots.
Clickbait

↑ Used to be Please don't spam on ROBLOX.
​ ​ ​ ​ ​ ​ ​ ​ ​ ​
Reasons
These are common reasons as to why a player may be banned from Roblox:
Inappropriate
Profanity
Spam 
Harassment
Adult Content
Scamming
Privacy
Hacking
Terroristic Advertising
Disputed Charge
Advertising
Impersonation
Gang Activity
Racism
Targetting
In-game bans
An "in-game ban", not given by Roblox staff but instead by game owners or players with admin powers within a place, only restricts the player's access to a specific game. These bans can range from being kicked from a server to being permanently banned from a game. If a player is banned from a game, they are usually restricted from access until the server is shut down unless another one is running. Players with in-game bans still have access to the Roblox website, their own places and other games they can access. This ban will not affect your moderation history.
However, some places may block access to specific players and theoretically ban them; this usually occurs in group-run places with restrictions imposed on other groups or users. A player who is blocked from a game may also be immediately kicked from the server. This can also happen to any player if a server is locked by an in-game admin (you will not have access to the server unless it is unlocked or restarted).
Exploiting
Main article: Exploit
Exploiting is a major violation of the Terms of Service and can result in light or harsh moderation action depending on the severity of the exploit. For this reason, exploiters commonly do their business exploiting on alternate accounts (however this can backfire if the account is IP banned, in which case they may also choose to use a VPN). Due to this evasion method, it is very difficult to capture an exploiter.
However, there are other techniques that developers can use in order to identify exploiters. For instance, on Shedletsky's Sword Fight on the Heights IV, the game had an unobtainable badge without exploiting, called "Touch The Divine." If a user were to use any form of exploit to grant themselves this badge, that user would automatically receive a ban (most likely an account deletion/termination or most less warning or a ban).
Issues
VIP Servers
If an account is banned or terminated and has an active subscription to a VIP server, the subscription will continue after each renewal date as long as they still have sufficient Robux in the account to rent another month of the server. It is unknown whether this will ever be patched.
Audio Refund Incident
On July 4, 2018, thousands of accounts on Roblox were banned for "Unauthorized charges/disputed charges" after unintentionally or intentionally receiving a double refund for uploading audio that was rejected. Almost all the bans given were permanent, and Roblox has announced that they are reinstating accounts that were affected (provided that they received a refund unintentionally).
Plugin Incident
On March 11, 2018, 10 user accounts were banned due to a bug with a cleanup process banning users using the word "Editor" in the title. This caused groups of terminated accounts to have code leaked.
Botting Incident
On October 17, 2018, thousands of accounts received a termination for "Roblox ToS Violation". Almost the majority of users who were deleted were innocent, including developers and major people with 500K+ RAP (Recent Average Price). All the terminations were given out at 4:51:49 PM.
Botters also have been terminated by this incident, therefore showing that Roblox does not support scams.
URL Error
If the URL "https://www.roblox.com/Membership/NotApproved.aspx" was accessed (the page you will always be redirected to when ban/warning is in effect), it would show the last moderation action that the user received. It was unknown if accessing this URL added new entries to a user's moderation history, but it was highly unlikely. The page would experience hiccups if the moderation action took place before Roblox's font change to the Gotham font.
Doing this without having any moderation history on a user's account instantly redirected them to the default Roblox home page. This was patched in early 2020.
Appeals & Membership
Users are encouraged to appeal a moderation action through an email to appeals@roblox.com. If the moderation action is deemed to be unfair, it can be lifted. Many users believe that the Roblox appeals system is unfair because appeals have an extremely low return rate.
Some users believe that users who purchase a premium membership are more likely to have a ban appealed and less likely to get banned. most likely because of how said users paid Roblox directly and can give refunds if banned.

Players with
premium
(or
BC
,
TBC
, or
OBC
) who are banned receive an additional notification when their accounts are banned. This notification identifies when the player's Roblox membership will expire or renew and how to contact Roblox if the player wants to cancel his/her membership for the duration of their ban.
Criticism
Many users who have created new accounts state that their previous account was banned for no apparent or sufficient reason. A glitch on the mobile client occasionally causes the player to see a message that they are permanently banned when they have received no recent moderator sanctions. It is also known that Roblox Bots troll or pretend to be a parent asking for some unknown users account to be banned/deleted.
Some users claim to have been banned for no logical reason. A rumor that spread throughout 2011–2013 noted that moderator
MSE6
(now scandal) bans users for no reason, such as for being Christian.
B1tsh1ft
has been rumored to ban users who post a topic within the wrong subforum. After b1tsh1ft was fired, the rumor spread to a new mod, EliteEinherjar.
Trivia
This section is a trivia section. Please relocate any relevant information into other sections of the article.
According to Telamon, the first problematic user that Roblox Staff encountered on the platform was found on October 17, 2006.[1] However, it is unknown as to who the first user to be banned is.
When someone receives a 14-day ban, the moderator note can state that their account has been terminated even though it has not.
In 2018, thousands of players were terminated for no reason. The moderator note was unauthorized charges and "Roblox ToS Violation". Many people suspect that the reason was that Roblox's moderation bot glitched and started terminating innocent players. This happened twice; the first termination wave happened on the Fourth of July, and the second time was somewhere in the second half of 2018.
Users can gain access to the friends list of suspended accounts.
Gallery
References
Community content is available under
CC-BY-SA
unless otherwise noted.