GTA: The Criminal Enterprises - The Loop
Play Sound
Collapsed content
In order to reduce this article's size, some sections have been collapsed. Click on the [Expand] button in order to view the collapsed content.
Build It, Play It: The Island of Move is a Roblox event that started on July 16, 2020, and ended on August 30, 2020, but the prizes are still obtainable to this day. It is likely one of the "permanent additions to Roblox" as stated in a blog post concerning the previous Wonder Woman event. A blog post was published when the event started announcing its start and providing information about it.[1] The event's own page then went public, at roblox.com/sponsored/islandofmove.[2]
It serves as a spin-off to the annual Roblox Creator Challenge events. The purpose of the event is specifically to teach players how to animate, import, and export

Animations to use in a walking/running simulator game template. When doing so, users can follow a guide through the Developer Hub to also discover exclusive codes to redeem in-game for limited-time virtual prizes in the avatar shop. There is a place in the event game where players' winning animation contest submissions for the game will be when the contest ends.
Game
Prizes
Updates
On July 16, 2020, the event game went public and first released with four obtainable items. It initially failed to redeem any codes the player tried to enter, correct or not, but was quickly updated and fixed this issue.
On August 13, 2020, the event game was updated to make the Kinetic Staff redeemable.
Criticism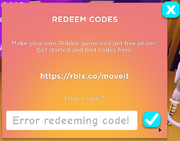 When the event game first went public, the items were not actually being awarded. This was quickly fixed, however. Later in the day, the codes the player was told to enter began not working and gave the error "Error redeeming code". This was also quickly fixed. Like past Creator Challenge events, this one has been actively criticized for being too easy and the codes being able to be found in just one search. This event in particular has been mainly criticized due to the game having glitches for many players when attempting to do the challenges for the items.
Trivia
This section is a trivia section. Please relocate any relevant information into other sections of the article.
It is the first event to use in-game codes in order to receive prizes.
Likewise the previous Wonder Woman event but unlike most, when a badge is awarded in-game, it does not say "...AND the [avatar shop item]".
In the initial Roblox blog post about the event, one of the images from it was titled "NIKE-BIPI SCREENSHOT 004.jpg".

This has since caused some speculation, specifically leading to some players believing that Nike could have been an uncredited sponsor.
Gallery
References