Fire Emblem Warriors: Three Hopes - The Loop
Play Sound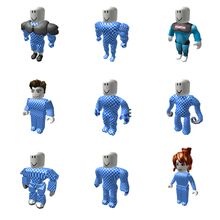 A bundle (formerly known as a package) is a full set of body meshes (torso, legs, and arms). Most packages for sale are sold in this way, but they then can be interchanged individually. Some packages can also contain hats, faces and heads, like the Man package. For an unknown reason, it is not possible to view the amount of sales a package has anymore.
Originally, most packages could not be bought without Builders Club, and the feature of purchasing packages was often advertised as an incentive to purchase a premium membership.
An update in October 2013 allowed non-Builders Club users to purchase nearly all packages.[1] As of November 2018, they are now known as "costumes", and they can no longer be seen in a user's inventory.
3.0 Bodies
3.0 Bodies were heavily criticized at launch, as many users believed it would encourage online dating. In response to the criticism, plans were changed to avoid making it the default body and instead making it a BC-Only body. When it eventually became free, it became the default package for new users.
Avatar Animations
These were added on January 19, 2017, for use with the R15 avatar type. These are used to customize your avatar with different animations when used in-game. Each animation pack will cost from R$80 to R$1,000. One animation package consists a free animation package that was released in October 23rd, which is the Rthro animation package, formerly known as the Anthro animation package. Some bundles such as Ud'zal have exclusive animations included with them.
Rthro
Main Article: Rthro
First announced in RDC 2017, It was then released to the public in October 2018 with slight minor changes. Rthro was also criticized for having human-like proportions.
Rthro bundles automatically set Body Type to 100% when equipped.
References