Disgraced Baroness of the Federation
is a 
limited unique
hat
 that was created on November 16, 2017, and published in the 
avatar shop
 by 
ROBLOX
 on February 18, 2019, specifically for the 
Presidents' Day 2019
sale. It could be purchased for 50,000 
Robux
 and had a stock of 100 copies with a timer of twelve hours. It is a part of the
Federation series
. As of February 18, 2019, it has been 
favorited
 185 times.
Issues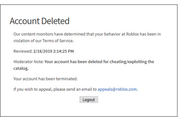 Upon its release, even after the item had sold, it was still purchasable for a short time and allowing more and more people to buy it beyond its placed stock. This meaning that the first 100 users who purchased the item got charged 50,000 Robux, and the users who bought it after the stock ran out received it for free (similar to Torque the Blue Orc). 236 copies of this item currently exists.
Criticism
This issue (as well as with certain past limiteds) has lead to major critique on how poorly Roblox has been handling limited items recently. Original buyers demanded for a refund for "ripping them off" for this unintended bug. In one unusual case, a user commonly known by his original Roblox username 'Flamey50' reported being terminated after obtaining this item for free on an alternate account along with five copies of the Emerald Valkyrie.
Appearance
It is a retexture of the Countess of the Federation. It has a copper/bronze frame and black & silver color scheme to it.
History
Release History
| Location | Available from | Available until |
| --- | --- | --- |
| Catalog | February 18, 2019 | Still available |
Trivia
This section is a trivia section. Please relocate any relevant information into other sections of the article.
Community content is available under
CC-BY-SA
unless otherwise noted.