Dual Plungers
 is a Comedy
gear item
made by
ROBLOX
on May 4, 2013 which costs 450 Robux.
When the user holds the mouse, the user starts launching multiple plungers rapidly, which deal a local damage of 35 per plunger. As the user continues to throw plungers, the firing rate increases. When the firing rate gets to maximum, the plungers get set on fire for extra damage.
When equipped, the plungers give users extra walkspeed as well, but users will lose their walkspeed when they unequip the gear item.
Trivia
This section is a trivia section. Please relocate any relevant information into other sections of the article.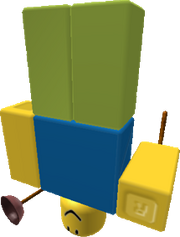 There was a glitch where if a user's avatar character wears the Dual Plungers, the character's avatar is flipped. As of 5/7/2013, this is now fixed.
This gear item is banned in Catalog Heaven.