Gingerbread Immortal Sword is a back accessory that was published to the catalog by ROBLOX on December 11, 2018, specifically during the month of Christmas. It could have been purchased for 10,000 Robux during a 48-hour timer. As of December 5, 2019, it has been sold 410 times (an extra 60 were glitched) and favorited 2,884 times.
Appearance
It is a sword in the color scheme and appearance of a Gingerbread cookie. The blade features a white frosting with red and green candies implanted into it. The handle is a green striped candy-cane attached off of two peppermints: one in the middle and one on the top.
History
Release History
| Location | Available from | Available until | Status |
| --- | --- | --- | --- |
| Catalog | December 11, 2018 | December 12, 2018 | Offsale |
Trivia
This section is a trivia section. Please relocate any relevant information into other sections of the article.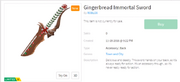 Upon release, it was intended to originally be purchased for 11,000 Robux as a limited unique item for 24-hours, but was unable to be bought for unknown reasons. Nine minutes after, its limited unique tag was removed.

This is one of the few items to have changed from a limited unique item to a regular item, another example is the Horns of the Creature.
Due to it being unpurchasable, users had to employ alternate methods such as using inspect element or browser console scripts to purchase the sword illegitimately. Only 23 copies of it were obtained via this method before it was placed back on sale the next day.

It can potentially become limited in the future, however.
It was initially quite small in comparison to most of the other Immortal Swords, and was later enlarged.
Community content is available under
CC-BY-SA
unless otherwise noted.