Golden Roblox Bowler is hat that was published in the avatar shop by Roblox on June 18, 2019. It is an item given out exclusively by Roblox employees & administrators (not to be confused with interns). As of December 10, 2019, it has been redeemed 1,330 times and favorited 4,811 times.
This hat can be redeemed by using a code on a token given exclusively to staff members. Each token can only be redeemed once. These codes can only be redeemed at https://www.roblox.com/toys/redeem.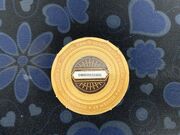 History
Release history
| Location | Available from | Available until |
| --- | --- | --- |
| Select users | June 18, 2019 | Unknown |
Trivia
This section is a trivia section. Please relocate any relevant information into other sections of the article.
When this item was initially published, its description was "Lucky you! This shiny bowler is an exclusive gift from a Roblox employee. It's classy and stylin' - the only way Roblox knows how to make a bowler." before being changed to clarify that you may get this item when you meet an employee in real life.
More items which can or could have been obtained through physical tokens from staff members are: the Goldlika: Bloxstar, the Gold Balloons, and the Bag o' Robux.