Man
is a
package
 that was published in the 
catalog
 by 
ROBLOX
 on July 12, 2012. It could have been purchased for 75
Robux
, which was decreased to 25 Robux, and has since then been on-sale for
free
. It is a 
ROBLOX 3.0 Body
. As of August 4, 2018, it has been
favorited
27,587 times.
After account creation, all male avatars are given this package, Blue and Black Motorcycle Shirt, Dark Green Jeans, Pal Hair, and Smile.
Contents
History
Release History
| Location | Available from | Available until |
| --- | --- | --- |
| Catalog | July 12, 2012 | Still available |
| Location | Available from | Available until |
| --- | --- | --- |
| Default inventory | June 5, 2014 | Still available |
Criticism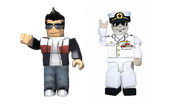 Users who first joined who are considered "noob/newb" are fine, but people who are older than 3 months and still use this item are considered a "noob/newb" even though they aren't. Many users also thought that LEGO would sue Roblox due to the arms and legs being similar to a LEGO figure.
This package may have caused some RP/Clan/Military/Company groups to discriminate people using morphs (aka 3.0 and 4.0).
Package glitches
A glitch was discovered on June 6, 2016. The glitch would appear as the right leg would be invisible on the avatar.
The most notable person to have this glitch first is Ninjah13 who noticed the body has changed and thought it was a glitch until he saw other users using it.
Gallery
Community content is available under
CC-BY-SA
unless otherwise noted.