xSCENEx, also known as his terminated alternative account's name xNOBODYx, was a former exploiter. He is notable for owning the Teapot Turret's mesh, which he received through the usage of exploits.
Termination
On April 5, 2009, xSCENEx was poison banned due to exploiting the Teapot Turret into his inventory. He later created the account xNOBODYx, but it was terminated in 2011 for creating an administrator-like shirt that exploited in the game Sword Fight on the Heights IV.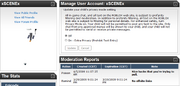 Trivia
This section is a trivia section. Please relocate any relevant information into other sections of the article.
References
Community content is available under
CC-BY-SA
unless otherwise noted.