Yourius
(
Youri Hoek
, formerly known as
RangeMeludE
on
Roblox
) is a massively successful
game
creator on Roblox and
UGC
catalog
item creator. He is the creator of "The Tales of Range's Cape RPG Original" and "
The Lords of Nomrial
", two of the most successful RPG games on Roblox. "The Lords of Nomrial" is the (unofficial) sequel to "The Tale of Range's Cape". He is currently working on the prequel of "The Lords of Nomrial", a remake of "The Tales of Range's Cape" made for the TLON's universe. Some
players
consider Yourius to be the most liked and least hated Robloxian, however everyone has different opinions. In the beginning of 2013, he took a break from Roblox for almost a year. Since December 2013, however, he has become active again.
Inspiration
It is likely Yourius bases his game off of other roleplay games, which may include Final Fantasy and RuneScape. A lot of his older models and a new upcoming game by him include a character he created named Destructias.
Q-Clash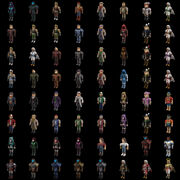 Yourius joined the group "SO Games" at the end of 2016 to work as a 3D modeler on characters for their shooter game known as "Q-Clash!".
Kitteh6660
Yourius has been criticized for creating a game that another player would eventually remake later on. A game developer named Kitteh6660 remade his game. It is almost identical except for the presence of 'realms' and more weapons/monsters and another cape. Thus, Yourius lost popularity which was leeched off to Kitteh6660. Because of the action, a rumor had spread that Kitteh6660 had "hacked" Yourius' game. A few years later, the two seemed to have solved this problem resulting in Kitteh6660 having a moderator position for The Lords of Nomrial.
Trivia
This section is a trivia section. Please relocate any relevant information into other sections of the article.
Community content is available under
CC-BY-SA
unless otherwise noted.