AlexValentinoCrown (also known as AlexCrowns) was an infamous account breacher and scammer. He also reported serious bugs to Roblox and owned numerous rare reward hats for it, such as the Boss White Hat and Doombringer's Doombringer.
Prior to his termination, he possessed some extremely rare limited items; two copies of the Lord of the Federation, a Bling $$ Necklace, the #1 serialized copy of the Darkheart, a pair of Double Platinum DJs and a Decklace. There are also claims that he purchased an administrator's account with real money to unban his own account on several occasions.[citation needed]
History
Original owner
The original account owner, known as "ape911" was one of the winners of Miked's Paintball Tournament. He later went inactive, and the account was compromised by Alex.
Termination
AlexValentinoCrown was eventually terminated for repeated violations of the Roblox Terms and Conditions on August 16, 2018. Alex made a new account called Frogglesmash which was eventually terminated as well. He soon went to another account known as FluffyThePet, which was again terminated due to poisoned limited items being transferred back and forth to his friend named khanyaa, who was soon locked out of her account due to unknown reasons. 
Criticism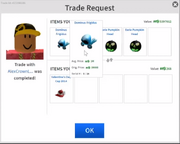 He has compromised Linkmon99 on two separate occasions, which garnered negative reactions from Linkmon's fans.[1][2] Due to these incidents, some wealthy traders have been terminated due to trading with Alex (using Linkmon's account) for poisoned items, even if they were fair trades. Alex has also compromised many other accounts, specifically ones with a lot of limited item value or notability.
Trivia
This section is a trivia section. Please relocate any relevant information into other sections of the article.
He owned many alternative accounts for the purpose of compromising other users to sell their items and Robux for real-life currency. 

Some of these included AlexCrownLegacy, AlexCrownsLegacy, AlexVCrowns and AlexCrowns, which have all since been terminated.

He is claimed to have reported serious bugs to Roblox in order to receive expensive limited items.[citation needed]
The #1 Darkheart originally belonged to Coolboy10000.
He is claimed to have offered $6,500 for the Bling $$ Necklace at one point, but to no avail.[citation needed] 
Around the beginning of October 2017, Alex was awarded a copy of The Kleos Aphthiton for finding a major security flaw for Roblox.[citation needed]
References
<references>
Community content is available under
CC-BY-SA
unless otherwise noted.