ROBLOX DODGEBALL! is a game that was published on July 11th, 2015 sometime in the middle of the night by alexnewtron. Going along with its many teasers and ads before it was even released, this game got 100,000 visits and around 2k favorites on the first day, and that is quickly rising. The music was based on SSB4, and Splatoon, basically Nintendo game OST.
The game reached the decline phase around 2016 as the game struggled to surpass 500 users daily, and it is unknown how it lost its popularity.
Lobby
The Lobby is the perimeter around the play area. Its a place to use the shop, use taunts, and talk to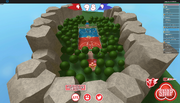 people.
Features
Gamemodes
There are 2 gamemodes as of 6/13/15. Juggernaut and Classic
Classic: In this gamemode you have to throw balls at other players, if you get hit four times, you're dead. To win defeat the enemy team.
Juggernaut: On one team there is a single person called the Juggernaut, who has very much health. On the opposing team is the rest of the server. The goal is to either kill the Juggernaut, or for the Juggernaut to wipe out all other players. Normal players can take 2 hits, and the Juggernaut can take an unknown amount of hits(at least 50).
Shop
Currency
The currency, "Certz", are used to buy the items at the shop. The symbol looks like an elongated C with a line through it.

Faces
There are many faces in the game. Most of them are pretty silly-looking and were drawn by PixelFlame . They are: Pleasant, OOOHH, Maniac, Ouch, Angry, :B, Really Happy Guy, AHAAAHH and Poobrain(Can be obtainable by typing in the code "omg" in the chat box).
Shirts and Pants
So far, there are only four shirts and one pants. "Dark Shirt" and "Dark Pants", "Baseball tee", "Tanktop Abs" and "Day One Shirt"(Could be obtainable the first day by typing in the code "dayone" in the code box).
These change color depending on what team you're on.
Hats
So far, there are eight hats in-game. Dominus, Knight of Diggery, Blaze Action Hero, Super Fighting Robot, King's Knight, Deadly Daredevil, Baller's Bandana and Beta Squadron.
Dodgeballs
Dodgeballs are items in the shop that can only be bought with Robux. These include: Yoshi Egg, Magic 8 Ball, Mario Fireball, Angry Bird, Soccor Ball, Bowling Ball, Eyeball, Beachball, Basetball, Pokeball, Dogeball.
Animation/Animation Packs
Animations are basically taunts used in the lobby. They are often joked around with in the lobby.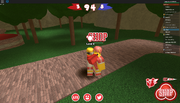 Community content is available under
CC-BY-SA
unless otherwise noted.