For this player's Wikia profile, see
User:Azuc
.
Azuc (also known as Cole) is a game developer on Roblox. He is known for working on many popular large scale games and groups, as well as an official Roblox event.
List of Roblox awards
Development history
Car Crushers 2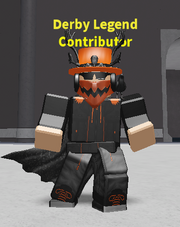 Car Crushers 2 is a game Azuc worked on with over 178,000,000 plays and climbing. He is known for creating some of the popular Derby Mode maps such as the Sci-Fi map, Airport map, and the Hockey Rink. Images of these maps were released in the CC2 Discord server via the sneak peak channel by Azuc prior to release.
Azuc also created the stage players are placed on during the winners sequence of the derby mode, the shredders mountable on the front of vehicles and the rocket boosters mounted on the back of vehicles. Azuc is known as an active member of the CC2 Discord community and a valuable partner to the building side of development.
Tower Defense Simulator
Azuc created the Winter Bridges map for the popular game Tower Defense Simulator alongside 0nqd for the New Year's update which was released on January 1, 2020. The map is a largely winter themed map and was accepted into the game with much praise on design and aesthetics.
Pizza Factory Tycoon
Azuc was a hired developer for Melon Development LLC, through which he was contracted to work for Ultraw on Pizza Factory Tycoon. Azuc created multiple assets for the game including new alien and Sci-Fi themed replacements for current furniture as well as themed buildings and upgrades for future content. As of November 12, 2019, this content can be seen in-game by progressing through the upgrades.
Ro-Ghoul
Azuc was associated with the development team of Ro-Ghoul for 3 months in 2018, originally tasked with designing and building a PVP arena similar to Jason's Lair from the show Tokyo Ghoul. Further down the road it was decided 3D modeling would be a better option for this task and Azuc's original design was used as the primary layout for the new modeled asset by SushiWalrus.
Pizza Party event
Azuc took part in developing the game Car Crushers 2 which took part in the Pizza Party event, so he received the Developer Pizza Launcher for his work. During the event, he was often seen handing out developer pizzas with Roblox administrator InceptionTime at games participating in the event such as Trade Hangout and the Roblox Staking Rink. He also hosted multiple 12 hour pizza events, constantly rotating players in and out of private servers to ensure everyone had a chance to receive the items in the event.
Other games
ULS Avalon RP, a mix of a design showcase and roleplay currently sitting at over 1,000,000 visits.
Ruined Bunker, a interactive building showcase in a post apocalyptic style.
Trivia
This section is a trivia section. Please relocate any relevant information into other sections of the article.
Community content is available under
CC-BY-SA
unless otherwise noted.