ColourTheory is a Roblox user noted for being the former owner of the Roblox Assault Team, which currently has over 236K members. He was often discussed on the Clans & Guilds forum. He also has a small rivalry with WIJ leader SilentSwords, and a more serious rivalry with VAK leader Vaktus.
The war the Roblox Assault Team had with The Vaktovian Empire has been finished; it has been declared a draw. Both groups have claimed victory over each other. VAK claims they won because of a group ban from R.A.T. bases, and more raid wins. R.A.T. claims they won, because they had more raid wins, and that VAK empty server raided. However, half of the Roblox community agrees that the war was a draw.
Name Deletion
Due to a misunderstanding between the Roblox moderators and CT himself, CT (then Donkeyo4)'s name was deleted. Apparently, one of his more known forum posts has been Content Deleted due to unknown reasons and this has caused Donkeyo4 to be deleted. However, CT managed to get to an agreement and settle his things with the moderator and changed his name to ColourTheory. Many people think that he is lucky to have gotten a name change and ask for at least one name change.
Roblox Assault Team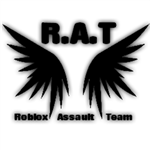 ColourTheory was the leader of The Roblox Assault Team (R.A.T.).  He has brought many changes to the group, and built many new bases, one of the most famous being
Fort Celeste
. R.A.T. has largely grown under his rule, with at least 30,000 members joining the group since he became the leader. During his reign, R.A.T. has gotten into many wars with other groups, and achieved many victories.
Ex-owner of RAT, Meowmixxed, who has owned many of clans, rejoined R.A.T in hope to put it at an even greater condition and organize it roughly. There were several reforms put in place, including the removal of the popular "Marshal Rule of Two" law, which basically allowed Admirals to each pick two Marshals of their own.
ColourTheory had set out a new generation of technology, also known as "Spectrum" or "7G". Both were released mid-summer 2012. They are known to include new weapons, brand new GUI's, and a new base known as Borealis. Borealis had been done for quite some time now (about one year) and was released with the Spectrum.
Due to inactivity, ColourTheory handed over leadership of R.A.T. to cj10127 on November 22, 2012.
The above fact is contradicted in CT's official quitting thread. It has been known for at least a month before this post was made that CT was planning to quit.
Rejoining and Revolutionizing
After leaving college for the summer, he rejoined Roblox in order to start a revolution against cj10127 known as The New Frostarian Union. He obtained over 300 members in a few hours, and started developing a system called Martyr, as well as forming the revolution. 40% of all ex-RAT High Ranks and 80% of the current RAT High Ranks sided with him against CJ. ColourTheory's statement was, "My return is temporary. I only wish to see the greatness I worked to build not be ruined through incompetence before I depart again."
Community content is available under
CC-BY-SA
unless otherwise noted.