We are bringing the world together through play.
David B. Baszucki[1], known on Roblox as david.baszucki, is one of the co-founders of Roblox alongside the late erik.cassel, and is currently the company's CEO. He formerly used the notable builderman account but has long since abandoned it in favor of this one. He has four children and currently resides in Portola Valley, California.[2]
Education
Baszucki was a General Motors scholar in electrical engineering at Stanford University.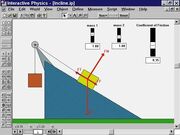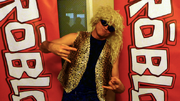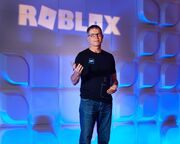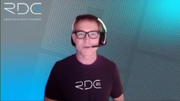 History
Before he helped create Roblox, Baszucki founded the now-defunct company "Knowledge Revolution" alongside his brother Greg. Here, Baszucki helped create a physics simulator called "Interactive Physics", which later sold millions of copies and of which Roblox was inspired from.
After Knowledge Revolution was bought by MSC Software for 20 million dollars, he became the Vice President and General Manager of MSC Software, where he was in charge of the desktop simulation division.
Baszucki left MSC Software after a few years and then went on to develop Roblox, along with co-founder Erik Cassel who also held a senior position in the company.
Trivia
This section is a trivia section. Please relocate any relevant information into other sections of the article.
The account's original name was David.Baszucki, but was uncapitalized in 2009.
His join date is not visible as being in 2004 due to the ways information is displayed on the frontend. (visible date May 15, 2007)
This account orginally had the ID 3, but was changed in 2007 to the newest account at that time.
Other accounts owned by David Baszucki include dbb, Admin, Test, ROBLOX, Toolbox and other 2004 accounts.
His account was the third made, Erik.Cassel's account being fourth.
David is friends with some unknown people with no place visits, an example being sancho101. This is due to a game exploit in 2015 allowing users to make the game think they are using another account. The two users then friend each other and are added to the "fake" accounts.
David.baszucki is one of the only eight users with a period in his name; the other seven being erik.cassel, Predator.John123, YUKI.N, foot.longer, Mr.Dog, Mr.CoolRobloxPlayya101 and mimi._.2121
On February 25, 2021, he officially became a billionaire according to his net worth.
David has his own Rthro bundle.
David's join date is July 2004 instead of February 27, 2006, due to a glitch that set 2004 users' join dates to February 27, 2006.

However, his join date is set as May 15, 2007 instead of February 27, 2006. The account ROBLOX was created on May 22, 2005, and its ID was swapped with David.baszucki's to make its ID 1.
Gallery
References