This page needs improvements to meet the Roblox Wikia's standards.
This article needs a complete rewrite or cleanup to meet the Roblox Wikia's quality standards. Please proofread this page and edit this to make it revamped.
IcyTea, also known as Teaism, is a Roblox user who is most known for directing the game Blox Cards.  He is also a Roblox YouTuber  over 10,000 subscribers who streams mostly Roblox-related content.
IcyTea was also an active forum poster on various sub-forums, accumulating over 20,000 posts in total until the Roblox Forums closed around December 2017. He created one of the largest Roblox-themed Discord Servers at the time with over 500 active users. The discord has been active since December 25, 2015.
User History
Throughout the years 2010-2015, IcyTea made his own various games ranging from social hangouts to amateur puzzle / obby games. He briefly associated with a clan named 'Griffin Squad' between 2010-2012.
He is most known on Roblox Talk, for giving feedback from various users showing off their creations or their insight on topics during the time. He later went to move to All Things Roblox the day it was added to Roblox's sub-forum listings (January 2013). Later on, he posted actively in both sub-forums until late 2013. He became completely active on Roblox during the late summer of 2015, working on his first large project titled 'BLOX Cards'.
From 2015 to present, he spends his time working with other developers by being a project manager on many projects, such as BLOX Cards and Boxing Mania. He plans to manage and direct more projects in the near future.
On June 29, 2018, IcyTea retired from working on Obstacle Paradise and left the group soon after he stopped managing the game.
As of July 2019, IcyTea became a moderator for ROLVe as well as a contributor for Arsenal. Making maps titled Poolside and Kitchen Khaos respectively.
BLOX Cards
In the summer of 2015, he requested some scripters in the Scripters sub-forum to help him work on a card game called 'BLOX Cards'. After a few days, he met with user Drager980 to start on the Pre-Alpha release which then progressed until Alpha release. IcyTea made approximately 200-250 cards for BLOX Cards to kickstart the Alpha release of the game.
During the Alpha release, Drager980 parted ways with IcyTea and suggested Visleaf to help continue the scripting and ultimately the reworks of BLOX Cards. Notable community members such as Myrmiredon, Mitpaul, Inechi, Dun_Goof, and Arceusdon (including the Wikia members and admins of the Blox Cards Wikia) helped shape the game, aiding IcyTea with the game's core gameplay as well as new features.
The game became a seldom success, having very similar features to older card games on Roblox with an updated design. Shedletsky praised the game for its uniqueness as a card game on Roblox at the time of release. It is one of the few active card games on the site.
There is a planned Beta release for BLOX Cards, but as of 2017 no date has been confirmed.
Involvement with Roblox Admins
When Shedletsky started to talk about BLOX Cards and enjoy it, the team decided to create an Exodia-type card for Shedletsky, known as Shedletsky the Fried One. The Next Level then did a poll the week after that on which game they should stream (Hexaria or BLOX Cards), BLOX Cards lost the vote to Hexaria by six tallies on their Twitter around September 2015. As of April 2018, there have been no plans to promote the game on The Next Level.
During The Next Level around September 2015, they stated that his game BLOX Cards would be streamed, but the day it was supposedly planned to be streamed they had API and site issues, causing them to not play any games for the duration of the entire broadcast.
Gameplay
BLOX Cards' gameplay has been said to be similar to SNK vs Capcom Card Fighters DS (2007), in which players start out with icons to summon cards. Then cards that become summoned are locked (unless they have a condition of being able to be unlocked at the start). The mechanics, however, reflect those of Magic: The Gathering and Yu-Gi-Oh with designs similar to Pokemon TCG, varying the current metagame.
Myrmiredon works on the gameplay aspect of the game as well as directing what cards should and shouldn't have in their stats and skills. Since 2016, he has assisted in providing events, tournaments, and rebalancing updates to the game.
Design
The card designers (Arceusdon, Dun_Goof, and Mitpaul to name a few) designed all incoming card requests, mostly from people who have paid for a card commission, as well as revamping old card arts to satisfy consumers.
Aife is an artist who used to design specialty cards, which in turn created the Art Box store if you purchase in Robux (although you can still earn the cards from it in events and tournaments).
Many of the cards represent ideas, users, places, and references of Roblox as well as other games such as Yu-Gi-Oh. Some cards are a part of unique lore within the game, Ancient Stirrings for an example were released to explain what the characters were about and their backstory, this is noted with a unique card template not familiar to the original template style.
Roblox Toy Line (Series 1)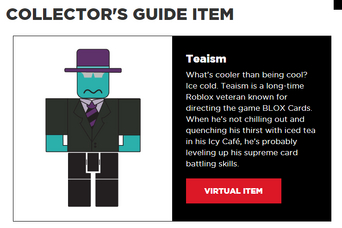 IcyTea was featured in the first Roblox Toy series with an accompanying item in the Roblox Catalog. It is named by his prior username in 2016, Teaism.
Teaism is supposed to be an alter ego compared to IcyTea. Teaism is meant to be more dapper and gentlemen, enjoying a game of BLOX Cards and relaxing in his Icy Cafe, stated in the bio of the toy.
Trivia
This section is a trivia section. Please relocate any relevant information into other sections of the article.
He was the only one to have purchased PolyHex's Suit for 100,000 tickets until PolyHex put it off-sale and later placed it for 40 R$.
In 2016 IcyTea changed his name to Teaism as a pun towards another user named Beeism.
He has a younger brother named Juicy_Fruit.
The username "IcyTea" came from him drinking iced tea during a warm summer morning, on June 1, 2010.
He is a contributor and moderator for the game Arsenal. Creating maps Poolside and Kitchen Khaos.
He was also involved with RO-BOXING as the Creative Director for Iegoadz on January - February 2018.
Community content is available under
CC-BY-SA
unless otherwise noted.