JJ5x5
 is a user who is well known as one of the most popular past era
Roblox
YouTubers. His channel can be found 
here
. His first video, titled
ROBLOX Gone Crazy
, was a series of bloopers taken at the
Thrillville Park
, which eventually became his signature place. This caught the attention of ROBLOX and he earned a custom hat named the 
JJ5x5's White Top Hat
 from 
clockwork
, a former administrator.
History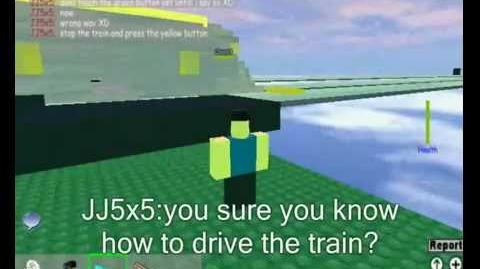 JJ5x5 joined Roblox on May 15, 2007. He created the place, "Thrillville Park" along with a themed T-shirt. To help produce the first video, a group of friends joined with him.
In mid 2009, JJ5x5 bought standard Builders Club for the first time. Since then, he has created nine additional places, with JJ5x5's House! being the most popular out of his newer games.
Legacy and Roblox Gone Crazy
See Also: Roblox - Gone Crazy (video series) Since the release of his first ROBLOX - gone crazy video, JJ5x5 has received a lot of recognition and fame from the community. The classic video series, consisting of 6 parts produced between 2007 and 2009, is today viewed as an important part of Roblox video history. The humorous series is written in the style of generic Roblox bloopers commonplace from the early years of Roblox. Many pop culture references can be found in this series, and it utilizes various sound effects from television and movies. Many of JJ5x5's friends helped with the recording of Roblox Gone Crazy by playing a part within the bloopers.
Legokid
Main article: Community:JJ5x5/Legokid
One of JJ5x5's most popular models is called "legokid," which replicates the user legokid. The model is featured in the ROBLOX - gone crazy series.
Controversy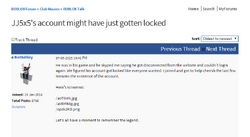 Beginning in 2011, a number of issues spouted after a rumor claimed that JJ5x5 was pass-guessed by Luigi498.
On April 1, 2012, all friend requests sent to JJ5x5 were accepted. More ads were created for Thrillville, which also received more updates.
In June 2015, rumors arose again when JJ5x5 was pass-guessed again by Zeaxle50, and that all of his ROBUX was stolen. A great amount of Robux was donated to Zeaxle50. Thrillville was not tampered with in any way, except for the statue being moved. On June 26, it was confirmed that he was pass-guessed when Forisban contacted JJ5x5 on Steam, confirming he had not returned.
On July 5, 2015, the account was logged onto again removing all suspicions that it was locked, the pass-guesser stole around 160000 ROBUX worth of limited items.
Since July 12, 2017, his account has only 18 friends, and he has been friends with some of the most popular people on Roblox including 4Sci and TheGamer101.
Trivia
This section is a trivia section. Please relocate any relevant information into other sections of the article.
JJ5x5 has his own Top Hat that was created after winning the ROBLOX Humorous Video Contest.

He no longer owns a copy of said hat.

JJ5x5 has three pet cats. One of his cats is named Blue, who is a black male cat.
Because he privated all of his Roblox-related content on his YouTube channel, all of his Roblox-related videos were reuploaded to another account.

On August 19, 2018, he began reuploading some of his Roblox videos to his main YouTube account.

JJ5x5's blurb says retired; it is unknown if he actually wrote it or the person who hacked and locked his account did.
JJ5x5 is part of the furry fandom.
Community content is available under
CC-BY-SA
unless otherwise noted.