For this player's Wikia profile, see User:Linkmon99.
Linkmon99 is a player who is primarily known for being the highest-valued trader of limited items on Roblox (on a single account), with the combined Recent Average Price of all his items totaling around 48,000,000 Robux.
He is also well-known for his YouTube channel with over 370,000 subscribers (featuring gameplay, vlogs, and trading guides) and some of the games he developed on the site which were popular in the past.
Trading site
Recently, Linkmon has started a new Roblox community site called "RbxCity" alongside Merely. It is intended to be a secure and reliable site that is mainly dedicated to limited trading. Due to Merely's involvement, Trade Hangout 3.0 is also currently using RbxCity as a reference for community-based values and has a special room for players in Linkmon's fan group.
Live Stream Voice Chat Incident
In January of 2019, Linkmon live-streamed a Roblox gift card giveaway every time he reached a specific amount of subscribers. At the same time, a small YouTuber named Suflet and his best friends figured out that you can voice chat with Linkmon in a Discord stream chat by donating $5.99 in the stream. Suflet had an idea to troll and ruin Linkmon's live stream by spouting profanity while not knowing how young his average viewer was.
Once Suflet donated $5.99 and joined the stream chat discord, he started to annoy Linkmon by dropping n-word bombs - one by one rapidly. He did this 3 times, 2 on his main account (his account was banned from the stream chat discord) and 1 on a new account. This incident caused Linkmon's stream to be demonetized and lost money.
After the video was published by Suflet, a few (but not some) Linkmon99 fans decided to talk hate at him. One comment proved that the incident was a big deal saying, "Linkmon lost money because of that hope you get hit by a car". Linkmon hopes another incident like this never happens again. The original uploader has deleted his video, however, a reupload can be found here (age-restricted): https://youtu.be/MBfl3vyDuTY
Temporary Termination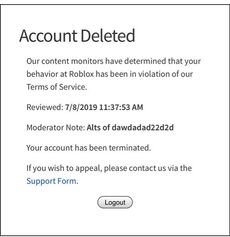 On July 8, 2019, Linkmon99's Roblox account was terminated for a short period of time due to supposedly being an alt account of a user by the name of "dawdadad22d2d".[1] A friend of Linkmon99 explains that he may had been exposed to a public Wi-Fi connection leading to him being matched with an IP address of this user's account, who was potentially a hacker or scammer. This caused moderators to take action and terminate all users within the internet, this including Linkmon99's account. Linkmon spoke out saying he had been in a hotel using their public Wi-Fi service and to keep calm since he had contacted Roblox administrators. Several hours after the incident, Roblox decided to unban his account on behalf of the moderator's fault.
Dangers of Public Internet
Since this issue has occurred, many notable users have advised players to avoid logging onto their Roblox account whilst using internet connections that are available to everyone in a specific area (for example, a mall, restaraunt, or hotel). They also promote the use of personal VPNs in order to protect personal information such as passwords.
Criticism
In early 2016, Linkmon fell for a suspicious link scam that was run by AlexValentinoCrown, who then accessed his account in order to give away his items to innocent traders on the Let's Make a Deal sub-forum with the end goal of getting their accounts deleted (since his items would be considered stolen by Roblox). Many players were terminated due to this with some known victims of this incident being ContentCool and Vorfi.[2]
Due to a fault in Roblox's linking system, however, Alex breached Linkmon's account again after he received a rollback. Alex then repeated the same process and got more players terminated, with some known victims of the second wave being Gyzr and Pirate2Flash.[citation needed]
Trivia
This section is a trivia section. Please relocate any relevant information into other sections of the article.
His username is a portmanteau of Link and Pokémon.

This is confirmed by his most commonly used profile picture across various platforms, which depicts a Pikachu dressed up as Link.

Although he is the wealthiest individual user on the site in terms of limited items, Linkmon is technically #2 for account value due to the ROBLOX account itself owning much more limited items, and #4 if Shedletsky's alternate accounts (which include SonOfSevenless and EarlGrey) and Aminish are considered.
Prior to Linkmon99 becoming the richest Roblox player, Merely held the title with more estimated value than the ROBLOX account itself (before selling many of his items for Robux).
His YouTube channel jumped from 1,000 subscribers (in December 2017) to 100,000 subscribers (in April 2018) when he began to collaborate with popularized Roblox YouTubers such as NicsterV, ZephPlays, Preston ROBLOX, LandonRB, and Thinknoodles.
He has an alternate account named "Newington" which is currently banned. He also has another alternate account named p3q.
He calls his fanbase the "Linkmob", a play on the name Linkmon.
Linkmon99 is one of the few winners of the Mountain Adventure Building Contest, which awarded him the Pickaxe item
References