MemeNicoi is a Roblox user who is known for creating the controversial game Ro-Bio, its subsequent remake Ro-Bio 2, and its currently active third iteration Ro-Chanics, as well as Ro-Office.
Termination
He was terminated on May 5, 2019 for selling Robux offsite for low amounts of USD (for example, 4,000 Robux for $4, 10,000 Robux for $10, etc.) to someone he refers to as "uCheezy" and their friend "Norbod", because Roblox refused to let him DevEx. He still plays roblox under the name of tronp .
Trivia
This section is a trivia section. Please relocate any relevant information into other sections of the article.
His friends list can still be viewed here.
In a YouTube video published on May 11, 2019, he said goodbye to Roblox and stated he would release games on Steam instead.
In a tweet, he said "@Roblox I just got terminated for something i did not do? i dont "sell virtual items", i devex.." despite him giving ROBUX offsite to his friend.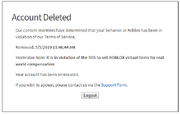 Community content is available under
CC-BY-SA
unless otherwise noted.