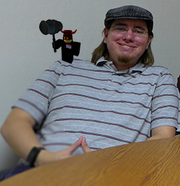 Cliff "MrDoomBringer" Chapman was a super moderator on Roblox and intern administrator during the summer of 2013. [1] He also shared the position of system operator on the Roblox Wiki with administrators UristMcSparks and Gordonrox24. He resigned from his administrative role on Roblox on September 14, 2014.[2] On February 7th, 2019 he announced that he started working for Roblox again doing "internal development"​. [3]
He typically moderated the Roblox Talk and Off Topic forums . During his internship, he focused on improving internal moderation tools, moderating, and making Roblox a smoother experience.[1] He also developed Roblox's automated testing solution during this time. [4]
Multiple items on Roblox have been inspired by him. In 2008, Telamon acknowledged MrDoomBringer's active moderation by retexturing the Doom Bucket and creating the Doombringer's Doombringer. On August 2, 2016, this same hat had its ownership moved to the ROBLOX account. A package was also created in 2012 called the Doombringer.
Trivia
This section is a trivia section. Please relocate any relevant information into other sections of the article.
MrDoomBringer was the first builder to create VIP shirts. [1]
He studied computer engineering at the Rochester Institute of Technology [4]
References
↑ 1.0 1.1 1.2 ROBLOX Blog, Our Summer Interns Have Names You May Recognize, http://blog.roblox.com/2013/05/our-summer-interns-have-names-you-may-recognize/
↑ A tweet from MrDoomBringer announcing his resignation, https://twitter.com/Mr_DoomBringer/status/511319442052374528
↑ 4.0 4.1 ROBLOX Blog, We Bid Our Summer Interns Farewell, http://blog.roblox.com/2013/08/we-bid-our-summer-interns-farewell/
Community content is available under
CC-BY-SA
unless otherwise noted.