qa was the second account to join Roblox. However, it was replaced by John Doe and was given the ID of 6. The account was created on June 30, 2004, and was predominantly used by David Baszucki and Erik Cassel, who sometimes used the account on the forums.[1] The username stands for "Quality Assurance"[citation needed]. It was also one of the only few users on Roblox to have a two-character username.
Additionally, qa is also friends with 4 people. All of them are notable, such as 111 and Ananymoos. The account's friends list can be viewed here. They are all terminated.
Termination
The account was terminated soon after it was found to be compromised in 2017. There were two attacks on qa's account.
On April 9, 2016, an account breacher got hold of qa's account and made 9 forum posts, qa's post history on the forums can be found here. The second attack took place on December 19, 2017, when an XSS vulnerability was abused to hack qa's account. Roblox tried to defend the account by applying safeguards, however, the Roblox Client could not recognize 'qa' as it had only two characters in it and the minimum characters in a Roblox username were at least 3. Due to this issue, Roblox protected the account by terminating it.
On January 7, 2021, qa, along with Toolbox, had their termination pardoned for unknown reasons. Later, qa was unbanned but Toolbox was still terminated for unknown reasons. However, qa was terminated again at August 7, 2021.
Trivia
This section is a trivia section. Please relocate any relevant information into other sections of the article.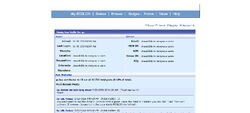 Six of qa's forum posts consist of multiple test posts on the forums, possibly due to David Baszucki testing the ability to post on the forums.[2]
Some thought that qa's first ever game is "dfgsdfg" or only game ever by him but look closely to the official Roblox patents from 2005, qa also made a game called "Race #2" which is the earliest confirmed game that qa has ever made on February 18, 2005 at 11:34:36 AM.
References