RegularYT was an infamous Roblox YouTuber. His YouTube channel is known as Slime. He is known for his heavy use of bait-and-switch techniques. He also used to upload inappropriate Roblox videos to his YouTube channel. He is the creator of the game named Pick a Baby. As of January 3, 2019, he mainly uploads "free Robux glitches" to his YouTube channel. On an unknown date, his YouTube channel was terminated by YouTube due to spam and clickbait content. Now, he is no longer doing YouTube videos.
Bait and Switch Method
He uses the bait and switch method on players to get millions of visits, resulting in him having a very negative reputation on Roblox and his YouTube channel. Currently, he is banned on his main Roblox account but came back on a different Roblox account, named Regula_r.
Trivia
This section is a trivia section. Please relocate any relevant information into other sections of the article.
The descriptions on all of his games say "Subscribe to my YouTube Channel for a Free Code" with his YouTube channel URL so he can gain more subscribers.
Like most bait and switch scammers, RegularYT also has game passes that are purposely designed to be a scam so he can get Robux.
He often advertises his YouTube channel by putting in his description "Subscribe to my YouTube Channel for free admin!" After the part mentioned above.
He plays Minecraft and he makes YouTube videos of him playing Minecraft. The first game in his games list above is a Minecraft reference sometimes.
His clothing group has copied clothing and some of the clothing in the group is selling for around 20,000 Robux.
He dropped out of high school in order to make Roblox videos.[citation needed]
He started making clickbait videos on YouTube in late July 2017.
He uploads fake "free Robux" videos on his YouTube channel mainly to gain subs, so far he has gained 100,000+ subscribers to his YouTube channel because of this.
He changed a user named superwillythegamer's (now earthwormjim4) password. He tricked him for a free BC membership. When he got on the account, he put inappropriate pictures on his account. After that, the account got terminated.
His YouTube channel used to be flooded with numerous people doing questionable things.
Gallery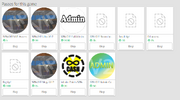 Community content is available under
CC-BY-SA
unless otherwise noted.