Scripter was an admin who joined in October 2007 and was one of the first admins to be terminated. He was a developer for Roblox Studio. He also experimented with Roblox's physics engine frequently.
Termination
In early 2009, Scripter gave himself infinite Robux and Tickets using an exploit. He was later fired from his job but was allowed to keep his account.
Later, his account was IP banned in mid 2009 when he leaked the unreleased
Sparkles feature to his YouTube channel. He was unbanned during the summer of 2016 for unknown reasons, and was last seen online in August of 2018. He was later terminated again on an unknown date.
Trivia
This section is a trivia section. Please relocate any relevant information into other sections of the article.
He had an alt account named Aminish, but it got terminated.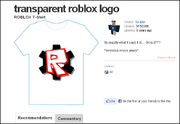 Community content is available under
CC-BY-SA
unless otherwise noted.