Matthew Dean, known on the platform as Seranok, is a Roblox game developer noted for creating Catalog Heaven. He is the current CEO of Sky Studios, a Roblox game development group. Seranok is known for his building, scripting, and fighting abilities on Roblox. He won the award for User's Choice Player of the Year at the ROBLOX Game Conference 2012.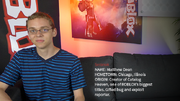 Seranok and his brother Merely returned to Roblox headquarters as interns during the summer of 2015. Since then, Merely has gained much of his profits from the success of Catalog Heaven.
Catalog Heaven
Catalog Heaven is a game created by Sky Studios (formerly Seranok), and is currently his most popular game. Catalog Heaven is the main source of Seranok's fame. The purpose of the game is to test gear, hats, faces, and packages before players purchase them on the website. Catalog Heaven currently has two VIP Game Passes and three VIP T-shirts. Users can change how their character look in the hats, faces, and packages featured in the avatar shop, while testing out gear on other players. Players often fight each other with the gear provided. There are some gears banned though as they were way overpowered, but you're able to get them if you have 5,001 Robux for the Banned VIP gamepass.
Trivia
This section is a trivia section. Please relocate any relevant information into other sections of the article.
Community content is available under
CC-BY-SA
unless otherwise noted.