For the event, see ROtris (event).
ROtris is a GUI-based game by Stravant (previously xLEGOx). It is a Roblox version of Tetris. An exact copy was created by Roblox for an event with the same name as the game, with prizes called "Tetraminoes", which are now no longer obtainable. The official game is now broken and closed to visitors, but many people have made "fixed" versions. From September 2012, it became uncopylocked, but later became copy locked and closed permanently.
History
​ROtris was created on November 26, 2008. During the next following weeks, it has quickly gained 144K+ player visits and 6,646 favorites before closing down. It was last updated the following month on December 16, 2008.
Gameplay
Before the rounds start, the user has to choose their preferred difficulty. After that, they click on the level they want and began the game. To win a prize, the player had to gain a score of 100 or more. There were different prizes for each difficulty level.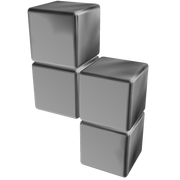 Community content is available under
CC-BY-SA
unless otherwise noted.