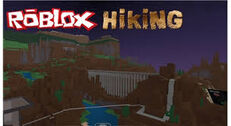 ROBLOX Hiking is a famous game by TheAmazeman. The game is TheAmazeman's third most visited game, after Survive the End of ROBLOX andROBLOX Titanic. The purpose of the game is to go hiking in a canyon-like terrain, and collect gold throughout the course of the game. The game has been favorited approximately 50,000 times. The game contains over 20 badges, and 10 different Gear are sold in the game. VIP is also available for ROBLOX Hiking.You can now get Player points from June 2014. ROBLOX Hiking was part of the ROBLOX Summer Games 2014 Event.
Gameplay
Players spawn in a desert canyon. The canyon has multiple patches of green vegetation. The purpose of the game is to explore the map as well as find and earn gold. Gold can be earned in three separate ways during the game. The first way is through exploring the map. When players explore the map, they gain something known as hiking experience. The hiking experience can later be exchanged for gold. The second way to get gold is through finding the gold scattered throughout the map. There is 134 pieces of gold scattered throughout the map with a value of over 400. The third method to gain gold is to win minigames. There are a total of 14 minigames in ROBLOX Hiking. The minigames are scattered throughout the map. Players must win a minigame (or more) in order to earn gold. Badges can also be obtained when winning minigames as well.
Community content is available under
CC-BY-SA
unless otherwise noted.