TheGamer101
is a notable account run by two twin brothers from Ireland who joined
Roblox
on February 14, 2009. They are mainly famous for their places as well as their massive amount of wealth.
Sword Fighting Tournament is currently TheGamer101's most popular game; it has been visited over 39 million times as of October 2017 since its creation and was formerly the 4th most played game on ROBLOX as an old competitor of Sword Fights on The Heights IV by Shedletsky. Other famous games by TheGamer101 include Ages of Robloxia, Sword Fighting Minigames, King of the Hill, Ultimate Assassins Creed and Sword Fighting Heaven.
In addition to being famous for their places, TheGamer101 is also notorious for being wealthy. A majority of this wealth comes from the visits from their games, as well as the game passes that are sold for those games. TheGamer101 also collects Limited and LimitedU items, specifically those that have a 101 serial number. They currently have 3 LimitedU items that have a 101 serial number. TheGamer101 owns his very own Roblox Tablet.
Controversy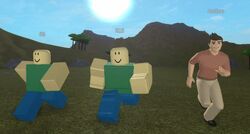 During June to July 2017, TheGamer101 made two places with one being named "Avatar Test V3" & "Anthro Animation Demon". When both were made, it immediately grabbed attention as people didn't know what in the world they were seeing. The animation was basically a human-like figure on Roblox and while weird and interesting, people in the community really hated it and disliked the two places a lot. People felt like it was actually going to be introduced into the game, but it was all just a test.
Trivia
This section is a trivia section. Please relocate any relevant information into other sections of the article.
TheGamer101 was a well-known forumer. He mainly posted on the sub-forum Let's Make a Deal and had over 11,500 posts.
TheGamer101 aims to have at least 10 places with more than 100,000 visits.
TheGamer101 is an account owned by two brothers living in Limerick, Ireland
TheGamer101 owns a fan club.
TheGamer101 cashed out over $10,000 from DevEx.
TheGamer101 is currently a ROBLOX summer intern.
TheGamer101 has held about half of the Domino Crowns.
TheGamer101 was at one point the richest Roblox player with 6/10 Eccentric Shop Teacher, they were infinite value.
He bought his golden Domino Crown from a YouTuber called darkUdog, he has made a video about it, it can be viewed here.
Community content is available under
CC-BY-SA
unless otherwise noted.