Vorfi (a.k.a DominoKid123) was a trader within the LMaD community most known for receiving poisoned items from a compromised Linkmon99. He achieved an approximate inventory value of over 10,000,000 Robux before being terminated. Vorfi also owned 58 WC Ultimates: Aquamarine Attitudes prior to termination, causing it to become the rarest pair of WC Ultimates. He also made bait and switch games.[citation needed]
He had a YouTube channel known as "Domino", famous for posting Pokémon-related content and achieving over 190,000 subscribers.[1]
Vorfi also had an alternate account known as Vorfi2, which was later terminated. Vorfi2 was known for owning the group 'Domino Empire', which sold mass amounts of copied clothing.
Termination and Legacy
On January 14, 2016, Vorfi was terminated for receiving poisoned items from Linkmon99 when his account was compromised. Although Vorfi states he accidentally accepted the trade in a forum thread,[citation needed] it is unknown if he really accepted the trade on purpose.
Gallery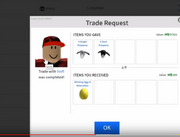 References
<references>