Wsly (formerly erikwesley96) is a Dutch Roblox game developer known as the creator of the Deathrun series, which includes Deathrun and Deathrun 2. The objective of the games are a killer or a team of killers must activate traps along an obstacle course to prevent the runners from completing it. If the runners are able to get to the end of the course, they will have to successfully kill the killer(s) in order to win, and if the killer(s) are able to kill all of the runners, they win. This place has over 7,000,000 visits and 150,000 favorites.
He released his latest Deathrun game on August 19, 2015, under the group Team Deathrun.
He is also the owner of 'Dutch Robloxians', a group made for Dutch Roblox users. As of July 5, 2019, the group has over 8,000 members.
He has also built some roller coasters in the past.
Games
ROBLOX Deathrun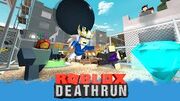 Wsly's most popular game is Roblox Deathrun, a sequel to Deathrun 2. The goal of a Runner is to avoid, survive, and dodge all traps activated by the Killer. As a Killer, your goal is to try to kill all players.
MEGA Challenge

MEGA Challenge! is a game similar to Speed Run 4, you run fast and avoid obstacles. The difference is that there are more obstacles, powerups and all the levels are much harder to complete. There is a monthly leaderboard for players to try get on, however the leaderboard has not been updated since March of 2017.
Crystal Cave Sledding

Crystal Cave Sledding is a game, where you slide through randomly generated caves (currently 20k+ studs long) depending on the servers you're in. You also have to dodge obstacles, jump over dangerous pits and collect crystals. It's still work in progress, however the game was last updated on 11/18/2017.
Hacked
Wsly's Roblox and Twitter accounts were briefly hacked on November 13, 2017. He quickly brought this to the attention of ROBLOX and Twitter employees, and he got both accounts back in less than 2 days.
Trivia
This section is a trivia section. Please relocate any relevant information into other sections of the article.
He was born on June 14, 1996.[1]
At one point, Wsly named himself Roblox_Deathrun.
Wsly has his own Roblox toy in the Action Series 3 blind boxes. His toy's name is Deathrunner: Wsly.
References
Community content is available under
CC-BY-SA
unless otherwise noted.