This article is about the user and YouTuber. For his Wikia user profile, see User:XiaoXiaoMan.
XiaoXiaoMan is a well-known veteran user of Roblox. He is mostly famous for his YouTube videos, although he is not as popular as he used to be. He takes inspiration from Are92, Megaman766 and JJ5x5 in his YouTube videos.
Information
XiaoXiaoMan is well known for his video series on YouTube which include Roblox Random Insanity, a series of clips recorded ingame with audio added, Raging Roblox Reviewer, a series inspired by James Rolfe, (aka the Angry Video Game Nerd) criticizing top front page and all-time visited games on Roblox, Burnout Madness, a series of random events in the place "Need for Speed; Burnout Edition" by CrashFM, Roblox Fun Facts, a series of videos where he talks about Roblox facts about with a satirical twist; Roblox God of War, an incomplete series where Xiao's character and his two friends, Matus and Auskia, embark on a journey based on that of the PlayStation 2 video game of the same name. He was also in Roblox Gone Crazy 5 by JJ5x5.
He checks on Actively however he doesn't go in-game that often like he used to. He also no longer plays Team Fortress 2 due to the Meet your Match update. He doesn't upload much on his YouTube channel due to copyright issues but uploads more on Twitch where it's more user friendly.
On July 12, 2017. after nearly a 2-year hiatus from making any Roblox-related content (his last video was on December 23, 2015), he made a video about Roblox not wanting it's users to talk about a controversial subject known as Net Neutrality. The video can be found here. On January 2, 2019 he made another ROBLOX Related video after a year of not uploading anything ROBLOX related.
Places
XiaoXiaoMan is not well known for his places. His most popular however, is Dry Bones' Arcade, dedicated to the Super Mario character, Dry Bones. Xiao shows his fandom for Dry Bones in a few Garry's Mod videos on his channel, and his series, Tales of Dry Bones (of which he discontinued.) He also shows his fandom for the popular 2007 first person shooter Team Fortress 2 in some videos and his channel image. Most of his games especially Dry Bones' Arcade has been broken several times due to Updates. He has also fixed in multiple times.
Dry Bones Arcade is based on the concept of an arcade; games include a game called Quick Draw Heavy, in which the player can challenge a popular character from Team Fortress 2 called the Heavy to a gunfight that can instantly kill the player, a shootout in which the player can shoot "Civilians" to earn points and a trap in which the player can fall into a pit. Points can be used to spend on gear and tools in the game. His other places include Walk on Water CTF, and Burning Crossroads.
On October 3, 2017. in a pinned comment in the video "Why should you watch my Twitch streams?", he revealed RRR will return before the end of the year. However, this promise was not fullfilled for unknown reasons.
Raging Roblox Reviewer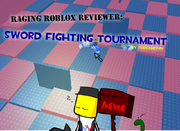 Raging Roblox Reviewer is a satirical video review series made by Xiao. In the show, rates games (mainly front page games) later deemed to be terrible, with the exception of Reason 2 Die and Welcome to the Town of Robloxia. In these reviews, he often swears and while the show is satirical, many feel that it presents valid points as a critical opinion of places. The title cards are created by the famous artist Patacorow and have been in usage for a large portion of the series. Raging Reviewer is based upon The Angry Video Game Nerd, an external show that is not related to Roblox where James Rolfe (as the Angry Video Game Nerd) reviews games from the past generations (not current generation game consoles such as Wii, Xbox 360, PlayStation 3, and PS Vita) in which those games are later deemed horrible. These videos do contain mature language. An older viewing audience is suggested.
Creation of the series
Before the host started watching Cinemassacre's "Angry Video Game Nerd" series, he first stumbled upon the Irate Gamer. At the time, he had never seen any of AVGN's videos. At the time, thought they were funny, but that was until he started watching AVGN. Soon, he stopped watching Irate Gamer. Knowing how there were so many games on to talk about, he decided to make a series based on that show, thus, Raging Roblox Reviewer was born.
Xiao's first review was PlaceRebuilder's Reason 2 Die, which he found to be one of the best places selected to be on the front page. People liked the review, but the host still thought and thinks today it wasn't the best way to start the series. So, he compensated for this with another review . The review was very popular. From then on, continued looking for bad places to review. By reviewing bad places, found that keeping to the "Raging" aspect of his reviews was a lot easier.
Club Christy Controversy
Xiao's second review for the Raging Reviewer series was the infamous Club Christy. After the review, the game was abandoned. Then, a user named "legoisreal" leaked her inappropriate actions on the role-playing website IMVU. A few months later, Christina8787 posted a video, flaming . Xiao posted a response, debunking her arguments. A few months later, Christy's video was thought to be taken down due to bullying, but it was later revealed that Christina deleted it by herself. Xiao was thinking of revisiting Club Christy, possibly because of a new update to the game.
Later, Christina was banned, but she rejoined on a new account, FizzyPops, to start a new career. She continued her old habits of arrogance with ads for her new place, The Pop Club, which she claimed to be the "Official" social hangout of . She once again caught the attention of Xiao, who gave consideration to reviewing her new place due to popular demand. About a year after she made the FizzyPops account, she announced she had given up and she deleted The Pop Club, to which made a reaction video. Many people revel him for what they see as a triumph over her. However, shortly after shutting down The Pop Club, she reactivated her original account, claiming she was thinking about going back onto said account, or creating yet another account. Christina is still active on however, but she doesn't make places anymore.
Fun Facts
Xiao had the idea of creating "Fun Facts" about Roblox. These are not actually 'Fun Facts', but are actually rants in which he complains about bad admins, users, and all things notorious about Roblox, all the while talking in a corny tone of voice. Currently, there are 5 videos: Roblox Fun Facts, More Roblox Fun Facts, Super Awesome Roblox Fun Facts for Cool People!, Oh Great! Another Roblox Fun Facts Video!, and I'm Sorry, I Only Brought Roblox Fun Facts.
Trivia
This section is a trivia section. Please relocate any relevant information into other sections of the article.
He has a private green screen studio for recording the Fun Facts Series, chroma he has to remove his snake or else the chrona keyer (green screen effect) will make it disappear.
He has some dislike towards many online daters and Bronies, fans of the popular television show "My Little Pony". His hate towards Bronies was shown in his Welcome to the Town of Robloxia review.

This has given him some dislike among YouTubers and seems to have costed him subscribers.

His name is a Pinyin version of the Chinese word "小小男" or "XiaoXiaoNan" which means "Very Small Male" (when a Chinese word is repeated, it represents emphasis).
He is 27 years old, according to his YouTube channel's descrption.
The God of War series has been discontinued since it was too limiting for him.
He is no longer active on Team Fortress 2.
He does not upload on YouTube that often but uploads actively in Twitch, where he has livestreams almost every week.
In this video, he admitted that he had once exploited a place on an alternate account.
The song used in the Intro of RRR is called "Beast and the Harlot" by American heavy metal band Avenged Sevenfold.
Most of his videos have references from the 2007 team-based multiplayer first-person shooter video game Team Fortress 2
Community content is available under
CC-BY-SA
unless otherwise noted.