Youri Hoek 
(
Yourius
, formerly
RangeMeludE
) is a Dutch
Roblox
game
developer and
UGC
creator known for creating the
roleplay
game
The Lords of Nomrial
.
Inspiration
It is likely Yourius bases his game off of other roleplay games, which may include Final Fantasy and RuneScape. A lot of his older models and a new upcoming game by him include a character he created named Destructias.
Q-Clash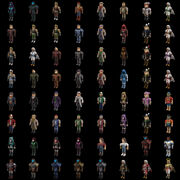 Yourius joined the group "SO Games" at the end of 2016 to work as a 3D modeler on characters for their shooter game known as "Q-Clash!".
Controversy
Yourius was criticized for creating a game that another player would eventually remake later on. A game developer named Kitteh6660 remade his game. It is almost identical except for the presence of 'realms' and more weapons/monsters and another cape. Thus, Yourius lost popularity which was leeched off to Kitteh6660. Because of the action, a rumor had spread that Kitteh6660 had "hacked" Yourius' game. A few years later, the two seemed to have solved this problem resulting in Kitteh6660 having a moderator position for The Lords of Nomrial.
Trivia
This section is a trivia section. Please relocate any relevant information into other sections of the article.
Community content is available under
CC-BY-SA
unless otherwise noted.