Unlike the events that Roblox Staff have to create new games for, Developer-made events (also more commonly known as Dev Events) are events that are usually created to sponsor a company or website and are held in already-created games made by both established and upcoming developers. Due to it being a quick and easy way for Roblox to set up events with little-to-no hassle, it has become the predominant way for Roblox to host events.
The first Dev Event was the 2012 Egg Hunt. Unlike the more recent Dev Events, it did not sponsor any company or website, nor did the Roblox community dislike it.
Criticism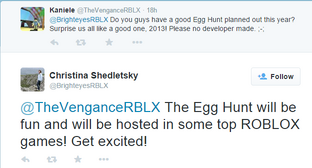 Dev Events have caused a majority of the Roblox community to claim that some of the games featured were "Already featured", and others have complained about a game being "Too hard". These Dev Events have also been considered by some to ruin staple Roblox events, such as the Egg Hunts and Egg Drops.
Due to a decision by Roblox Staff in November 2018, developers are now unpaid for monthly Dev Events, with publicity being the main tradeoff for being selected to host an event in a game[1]. This had caused harsh criticism from both the general Roblox community and the developer community, with many claiming that developers would not want to participate in an event if they are not getting paid.
References
Community content is available under
CC-BY-SA
unless otherwise noted.