Raise a Floppa - The Loop
Play Sound
Adopt Me! is a roleplay Roblox experience created by DreamCraft. The game features two roles: baby, who gets taken care of, and parent, which cares for the baby. Other features include obbies, a trading system, and customizable houses.
It was created by NewFissy, who took charge of scripting and leading the development team, and Bethink, who took charge of building and being the creative vision for the game.
The game can be considered a spiritual successor to various "Adopt and Raise" games that have appeared on the site, such as Adopt and Raise a Baby! by KingAndrewK.
Since its inception, the game has been considered to be one of the most popular games on Roblox due to how long it has stayed at the top spot on the front page, reaching between 200,000 and 600,000 concurrent players nearly every day. It is also the most played game on Roblox, amassing over twenty billion place visits. On April 4, 2020, Adopt Me! surpassed MeepCity in place visits.
Achievements
On April 30, 2019, Adopt Me! became the 7th game to hit 1 billion visits.
On September 7, 2019, Adopt Me! was the 4th game to hit 2 billion visits.
On December 2, 2019, Adopt Me! became the 3rd ever game to reach 3 billion visits.
On March 21, 2020, the game hit 5 billion visits, making it the second game to ever do so, first being MeepCity.
On April 4, 2020, Adopt Me! had 5.7 billion visits, making it the most visited Roblox Game.
On April 11, 2020, the game amassed 1,615,085 concurrent Roblox players, making it the first and only game as of now to cross the one million concurrent players mark.
On May 30, 2020, the game reached 7.8 billion visits, making it the first game to surpass the human population.
On July 18, 2020, the game reached 10 billion visits.
On October 10, 2020, Adopt Me! reached 1,786,076 concurrent players, breaking their previous record.
On October 27, 2020, it became the first game to achieve 15 billion visits.
On February 26, 2021, Adopt Me! became the first game to get 20 billion visits.
On April 16, 2021, Adopt Me! reached 1,920,889 concurrent players on the same day the Ocean Egg came out breaking the record as of a tweet by Adopt Me!.
On September 12, 2021, Adopt Me! was the first game to hit 25 billion visits.
Gameplay
Both teams (baby and parent) spawn in their house, which they can customize it to whatever they want. Babies and parents can ask (not request) nearby players to be a part of their family by clicking or tapping (depending on the device they play on.). Alternatively, they can create their own family by going to the family GUI and then clicking 'Create Family'.
When a baby or a parent accepts a player invite to be their family, both the baby and the parent will have a GUI. If there are multiple babies in the family, the baby that was held first's GUI's will show up for the parent. That GUI is for the baby's needs. There are four of these needs the parent must tend to. These needs are represented as bars, slowly shrinking as time passes. The nine needs are:
| Need | Description |
| --- | --- |
| Bored | How excited the baby or pet is. This can be increased by going to the park or playing the piano in your house. |
| Camping | When the baby or pet wants to go camping. This can be increased by bringing them to the campsite. |
| Cleanliness | How clean the baby or pet is. This can be increased by giving them a shower, or putting them in a bathtub. |
| Hungry | How hungry the baby or pet is. This can be increased by feeding them food. |
| Hot Spring (Previously Pool Party) | How hot the baby or pet is. This can be increased by bringing them to the Hot Springs. |
| School | Bring the baby or pet to school to learn. |
| Sick | If the baby or pet is sick or not. To cure them, bring the baby or the pet to the hospital, where they can eat a healing apple, lay on a medical bed or be healed by Doctor Heart. |
| Sleepy | How tired the baby or pet is. This can be increased by placing the baby/pet in the bed. |
| Thirsty | How thirsty the baby or pet is. This can be increased by giving them a drink. |
After the pets update, players were able to adopt pets, including basic ones like dogs and cats, or rare pets such as sharks, griffins, unicorns, and etc. Pets have the same moods as babies and they can be taught tricks by the pet trainer at the school. Babies cannot hold pets or put pets in strollers, but parents can.
There is an in-game currency called Bucks, which can be used to buy almost everything in the game. As a baby, Bucks are gained when taken care of by a parent, or by the baby taking care of a pet. As a parent, Bucks are given when taking care of a baby or a pet.
Milestones
On May 4, 2019, the game reached one billion place visits, making it the seventh game to surpass the milestone.
It broke the concurrent player record with over 440K concurrent players on June 15, 2019. This led to many players thinking the game used bots to reach this milestone. However, it was later proven false.
The game later reached over 517K concurrent players on October 18, 2019, and with over 640k concurrent players on December 14, 2019.

Additionally, it broke the record three times in one week, which had over 707K concurrent players at its peak on April 7, 2020.
On April 11, 2020, the game became the first to reach over one million concurrent players. At its peak, it reached over 1.6M concurrent players. This caused Roblox's servers and website to slow down, and many users experienced severe lag and found it difficult to play any games; these users also were prevented from rating assets.
On May 28, 2020, the game reached the one million concurrent player mark again.
On July 10, 2020, the game reached one million concurrent players for the third time.
On October 2, 2020, the game reached one million concurrent players for the fourth time.
On October 10, 2020. the game reached over one million concurrent players for the fifth time, at its peak it reached over 1.7M concurrent players.
Partnerships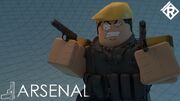 In September 2019, the game Arsenal by the ROLVe Community partnered with the game, adding a new skin called Anna named after the game's baby mascot.
In January 2020, the game Super Doomspire partnered with the game to add multiple pet related stickers, some available through code and some purchasable in the shop.
In May 2020, The Adopt Me! Team teamed up with Warner Bros to bring Scooby-Doo in the world of Adopt Me!. The pet Scoob was temporarily in-game up to May 18, 2020.
In June 2021, Adopt Me! partnered up with the WDC (Whale and Dolphin Conversation) to celebrate World Oceans Day. They have donated $50,000 to support WDC's efforts toward training the conservationists of the future.
ln November 2021, Adopt Me! partnered up with the animation studio, Illumination. The partnership was meant to promote their movie Sing 2.
Interview
The following interview was between Thundermaker300 and NewFissy on Error: Page "User blog:RBLXDeveloperInterviews/NewFissy: Adopt Me" does not exist., as part of the Developer Connections Project.
What was it like developing Adopt Me?

It's a lot of fun! Adopt Me is an enjoyable creative and technical challenge for both me and my co-creator Bethink. It's been an immense growth opportunity as well and has definitely pushed my programming to the next level. The great thing about working on a roleplay game is that there are limitless features you can add, since roleplay is pretty much a simulation of the real world.

What challenges did you have to overcome while developing? What was the most challenging?

We're constantly adding new features, but a lot of times that means our existing codebase doesn't have the capabilities we need to support the new stuff. We've rewritten our code 3-4 times now. And we're working through a major rewrite of our avatar system right now. When working with a codebase with 50,000+ lines of code, it can be difficult to make broad-sweeping changes, so we build automated tools and macros to rewrite and refactor our code. The biggest issue that we ran into is that many of our favorite tools don't work within Roblox Studio, so we needed a way to sync our code to the filesystem so we could use the full suite of tools. To solve this issue, we built a program called Rosync that does a snapshot sync to the filesystem so the code can be manipulated with traditional tools like git and vim macros.

What did you enjoy most while developing Adopt Me?

I have and always will be a software engineer at heart. I do enjoy the creative aspect of game dev like dreaming up new items and designing UIs, but nothing beats the feeling of hitting Play and your beautifully architected code that abstracts complexity into simple units works perfectly.
Is there anything else you'd like to share?

I've been working on Roblox for nearly a decade, and it's been incredible to see the platform grow from my childhood sandbox to this mainstream platform that's conquering the world. Keep it up Roblox!
Criticism & Controversy
Some people have criticized the game for being too similar to games such as Life in Paradise and Adopt and Raise a Cute Kid. It is also perceived to be a hub for online daters due to the family theme. At one point, the game featured a controversial thumbnail depicting an adult avatar supposedly about to eat a child, though it has long since been taken down.
Due to the limited capacity of Roblox's servers, Adopt Me!'s the 1.6M and 1.7M concurrent player milestones caused Roblox's servers and website to slow down, and updates to Adopt Me! often cause the entirety of Roblox to stop working. It was the first game in Roblox history to break the platform and apparently had more concurrent players than any Steam game. This led to the fury of many Roblox users, including causing a petition to be made on change.org, which over 81,247 supporters as of May 17, 2021, had signed. As to this extent the petition follows up with a lot of them protesting; the fury had spread across the entire website. Some players have also accused Adopt Me! of botting players in order to achieve this milestone. As a result of the criticism, corruption against the game started becoming to be
It also receives criticism for looking similar to MeepCity and being another Adopt and Raise a Baby game. The game also received criticism due to the game's abundant microtransactions and shifted focus on caring for pets instead of babies. Scammers have also taken advantage of trading by stealing other players pets and creating games that claim to give free items.
Another form a criticism is that it is a cash grab that has strayed too far from its original purpose of adopting and raising a family. Some of the reasons for this criticism include that the developers have added a paywall to get to the better stuff in-game. While you don't necessarily need this, the team has made the target a children's audience, so they can get easily peer pressured into buying good stuff like everyone around them has.
Trivia
This section is a trivia section. Please relocate any relevant information into other sections of the article.
NewFissy stated that the game was created due to the death of one of the senior developers of TreeLands, the game he worked on but quit to make Adopt Me!.[1]
A potential reason why it became so popular is because it combines the simulator genre (with pets) and the building genre (which Welcome to Bloxburg uses with some forms of roleplay, but it did not get as popular due to the game being paid access) into a role-playing experience.
On June 14, 2019, pets were added to the game.
The game has been favorited over 12M times.
Each game server holds 48 players.
The game was featured in the 7th Annual Bloxy Awards and Egg Hunt 2020: Agents of E.G.G. events.
References