Fire Emblem Warriors: Three Hopes - The Loop
Play Sound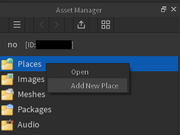 Experiences, or Universes, formerly and commonly known as Games, are a group of places linked together. The release of experiences coincided with the release of the ROBLOX 2014 Winter Games around January 31, 2014.
Experiences can be either owned by a group or by a player, but these can only be transferred between by downloading and re-uploading the experience.
Places can be added to an experience via the Asset Manager window accessible through Studio's View menu, as shown by the picture to the right.
Developers can transport visitors from one place in an experience to another using

TeleportService. Furthermore, different servers of a given experience can communicate with each other using

MessagingService. Saved data using
DataStoreService is also accessible throughout all places in the experience.
Places using SavePlaceAsync and CreatePlaceAsync are shown in the "Created Place" menu of the experience' Configure page on the Roblox website.
All users are allotted 200 active experiences. Before, the limit was dependent on the user's membership or previous membership status. The removal of this limitation allows users to create more experiences.
Former names
From December 2003 to February 2006, these were known as "minigames". Starting in February 2006, "minigames" were known as "games", or, in some areas of the website, as "universes". From this point to around 2012, these were also occasionally referred to as "levels". In May 2021, "games" and "universes" were both renamed to "experiences".
Features
Changing the start place in an experience used to be permitted in its "Configure Experience" page on the website. However, this feature was removed and all experiences that were missing a start place had one automatically generated.
Teleportation that no longer prompts users to change place, but instead, teleports the user without an option.
New places can be created in an experience through the "CreatePlaceAsync" method.