Raise a Floppa - The Loop
Play Sound
Discontinued
This article is about a discontinued website.
A place where all ROBLOXians can be free.

Faceblox's motto
Faceblox was a social media website where users could have chats with each other through a service outside of Roblox. It was the unofficial Roblox counterpart to Facebook, having a similar design. The site was not monitored for profanity or malicious behaviour.
Faceblox was an ideal platform where previously banned or hobbyist users can stray away from the otherwise strict policies enacted on Roblox, although the website was orientated for users aged 13 years or older.
The site was owned and made by Jaredvaldez4.[1]
History
RobloxUpLift
Faceblox's predecessor was a website called RobloxUpLift. Hosted by Ning, it was created in 2009 by Jared Valdez. Users who registered for an account on this website had to have their form reviewed by a site moderator. In 2012, Jared announced that the website was getting recreated.[2] The site is now no longer active, and has been sold.
Faceblox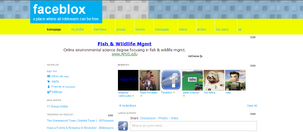 Founded in December 2012, Faceblox was created as the successor to RobloxUpLift. Hosted under Ning, the site started out having the same design as RobloxUpLift. In April 2013, due to a claim by Roblox, Faceblox wiped all of its media in an effort to erase anything related to Roblox.
Around September 2013, the website switched networks, from Ning to GROU.PS.[3] The whole website was reset and was redesigned to bear resemblance with Facebook. At its peak, the website had over 1,800 registered users.[3]
Closure
In June 2014, Faceblox was shutdown. The website redirected to the GROU.PS website, stating that the website was abandoned.[3] In September 2014, the website redirected to Jared Valdez's website, where it announced Faceblox's closure and revealed reasons as to why. The announcement revealed information that users previously did not know about, stating that Jared's account was terminated for not complying with Roblox's demands to close the site, along with the complications that came from switching networks. After its closure some Robloxians went over to Suggestions & Ideas to express their thoughts on the closure.[4]
The website was updated to say that Faceblox could possibly make a return, however Jared's website was eventually shut down as well.[4]
Legacy
After Faceblox was shut down, new sites were created to succeed the former website, however these sites were short lived. One website possibly derived from the original Faceblox is a Weebly website by Chad Vrieling. It looks fairly simple compared to the old website and it was opened on March 8, 2013.[5]
In 2015, Faceblox's Facebook page announced a possible comeback. Since then, no further post has been made about it and nothing has come of it.[6]
As of 2017, the Faceblox domain redirected to Roblox's website. The domain is currently under ownership by the Roblox Corporation.[7]
Features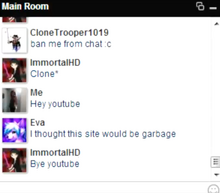 Chat
Unlike Facebook, the website held a chat for registered users. Users who are online can participate in the chat with other online users. The chat also had the ability to private message other online users. The chat was not moderated, and was prone to profanity and obscene topics. The website also hosted a Tinychat room where users can livestream.
Groups
Groups, like Facebook pages, were a type of connection on Faceblox. Groups could interact with the users as if it were a regular friend on the website. They could be created on Faceblox without any kind of payment. Users could like and/or join them the same way.
Extra Features
Along with the other features, users could upload media to Faceblox and share Blogs and Events. Roblox games could be launched from a pop-up that allowed easier navigation while they browse.
References