Favorites is a feature on Roblox that allows users to show off items and places that they like. (Place, head, gear, etc.). The feature was added on April 24, 2008. To add a favorite item, click the "Add to Favorites" link with the star icon on the top of the specific item's page. The item will then be displayed on the user's favorite list, which is located on the users "Home" page under "My Favorites" > "See All". There is a menu on the Favorites menu which allows people to select what type of favorites they would like to view; which are, by default, places. This also works for hats, shirts, pants, T-shirts, gears, models, and decals.
Tricks on how to use them
Remembering
For most types of items, you can select a gold star as shown above to favorite it. You can then find it again easily in the favorites section of your profile. Favoriting a place is also very useful, because you can sort the games page to show your favorite places, in a nice, big list. This list will also show how many players are currently in the game.
If you want to buy an item for later, you can favorite it and you can find it in your favorites.
Imaging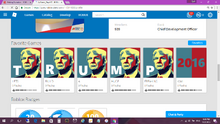 On the right, you will see a picture showing 6 different game icons spelling out "TRUMP2016" along with the game names: "LETS (T) | BUILD (R) | A (U) | HUGE (M) | FREAKING (P) | WALL (2016)" which makes it up. Before November 2015, you could make a square image with 9 places.
See also
Community content is available under
CC-BY-SA
unless otherwise noted.