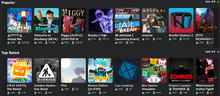 The front page is a common term for the games that appear when the user clicks the "Games" link on Roblox (which can be seen here). Games shown here have the most players out of all the games on Roblox as of the current time. Badges are often made for this occasion of being on the front page.
The sort category "Relevance" - the default search parameter when on the front page -, was made to show games that are the most relevant based on the user's favorites and visits. To truly see the "front page games", the category search parameter should be set, as the relevance search parameter is misleading towards the user's preferences.
Categories
Popular - Games with the most concurrent players.
Recommended For You - Games that are found with an algorithm based on user's previously played games.
Play Together (10 Robux VIP Servers) - A selection of games featuring everyday life, such as urban places, for players and their friends to participate in. Added on April 4, 2020, this is to address the issues of social distancing during the 2019-20 COVID-19 pandemic.
Learn & Explore - A selection of games with educational potential. Added on March 23, 2020, this is to address school closures during the 2019-20 COVID-19 pandemic.
Top Rated - Games with a high like-to-dislike ratio (usually 90% or higher)
Featured - Games selected by Roblox administrators to be promoted on the front page.
Popular Among Premium
Rthro
Popular Worldwide
Recommended
Top Earning
Players Love
Most Engaging
Roleplay
Adventure
Fighting
Obby
Tycoon
Simulator
Up-and-Coming
Controversy
The front page has been heavily criticized over the years because:
Most of the games on the front page are copied or false advertisements, which are misleading or fake and not very fun. (These games become popular by bots.)
Back in early 2016, one free-modeled game with pornographic content got onto the front page. Thankfully, it got deleted.
Some scam games also got there back in 2017.
Certain games keep appearing on the front page. 
Although rare, there might be some few with adult content, like back in early 2016 where an obscene game reached the front page.
Botted games repeatedly appear on the front page.
In 2020, a furry game with an 8% like to dislike ratio made it to the top of the Recommended section. The game ended up being pulled from the front page.
Although achieving the front-page status is still a major accomplishment for game creators, it is much more widely accepted that the ability to keep your game on the front page is what matters, as fake games of low quality can easily be snuck up to get a large concurrent user base, whereas a persistent userbase is much more valuable.
Community content is available under
CC-BY-SA
unless otherwise noted.