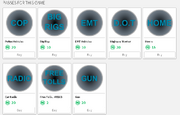 Game passes are items that users can buy directly from a game's page, and if the developer of the game prompts the player to buy one. Game passes are used similarly to the early-era VIP t-shirts in that they are used to grant special features and items in the game they are marketed for. Plus, because they are linked to the game's page itself, the risks of scamming are minimized which is why game passes have long since replaced VIP t-shirts.
History
Game passes were added in September 2012. Shortly after its release, a blog post was made to give users information on them.
On April 23, 2018, the comment sections for all game passes were disabled to prevent scam bots from luring users with fake Robux sites.
Details
Unlike VIP t-shirts, game passes allow users (even those without Premium) to offer exclusive in-game features without requiring the user who purchased it to wear a specific t-shirt. In addition, as an anti-fraud measure, revenue generated from game passes is temporarily withheld from the creator. Making a game pass initially, cost a 100 Robux fee. This fee has since been removed, and making a game pass is now free.
Gamepass sizes
Community content is available under
CC-BY-SA
unless otherwise noted.