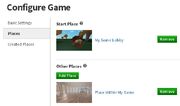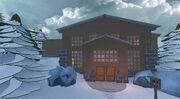 "Games" redirects here. For information about a user place, see Place. For the user, see Community:Games.
A game is a group of places linked together that are designed to constitute a game as a whole. Places in a game are able to communicate with other places in that same game, and place teleportation is used to bring players from one place in a game to another. Universes were suggested many years before their announcement, and its launch coincided with the release of The ROBLOX 2014 Winter Games.
Features
Improved Teleporters that are now more responsive.
Datastores, the standardized version of Data Persistence, works with all places in the game universe.
Custom Places act as regular places in the game, but are created in real time.