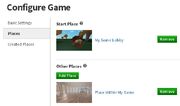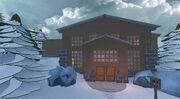 "Games" redirects here. For information about a user place, see Place. For the user, see Community:Games.
A game is a group of places linked together that are designed to constitute a game as a whole. Places in a game are able to communicate with other places in that same game, and place teleportation is used to bring players from one place in a game to another. Universes were suggested many years before their announcement, and its launch coincided with the release of The ROBLOX 2014 Winter Games.
Features
Improved teleportation that no longer prompts users to change place, but instead, teleports the player without an option.
As long as the game is within the universe, inactive places can be teleported to without the place taking up an active place slot of its creator.
Centralized Datastores, the superseded version of Data Persistence, allows for saved data to be shared across all places in a single game.
New places can be created in-game through the "CreatePlaceAsync" method.