Fire Emblem Warriors: Three Hopes - The Loop
Play Sound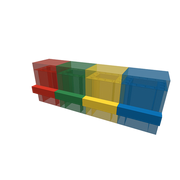 A giver is a slightly transparent box with a bar in the front. When you touch the bar, it will "give" you a tool, hence its name. Givers are versatile, having many uses. One such use is to give players a tool that lets them control a vehicle, such as a plane or a tank. Another use is to place a cluster of givers at the end of an OBBY (Obstacle Course) to reward the winner with various tools and weapons. Givers are also used to give players weapons for fighting games. Some givers have a Humanoid inside, which is used to display text above the bar. This text usually tells the player what tool they will get from the giver.
Trivia
This section is a trivia section. Please relocate any relevant information into other sections of the article.
Some free model givers are traps. A trap giver, when touched, will trap the player character inside of the box.
The first hat giver to be published was by Rhino1004 circa 2007. He got the idea from PlayParky.
At the end of obbies between 2010 - 2014, there were often givers that would give the winning players paths to use.

Paths from givers create boxes or spheres that the player can walk on.

In many Slide Down in a Box games, givers would usually be a prize for winning.