Glass
is a
material added
to
Roblox on
December 6, 2017.
Before glass was added, regular transparent bricks were used, which did not have the effects of glass such as distortion.
Glass, along with Neon, and unlike other materials, have special effects built in when the Graphics settings are high enough. When they are activated, they distort and slightly blur the image behind them and become less transparent when viewed from an angle.
Description
Glass is a transparent Roblox material. It can be set with the properties of any other material, such as transparency or color . Glass is mainly used for windows.
Trivia
This section is a trivia section. Please relocate any relevant information into other sections of the article.
Glass is the second material to have special effects with the first being Neon.
The effects of Glass do not activate until it's transparency is over 0.
Originally, to save processing power, Decals did not render behind transparent Glass, which was quickly changed. However, transparent parts still do not render.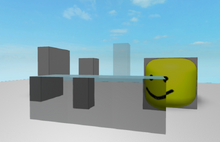 Community content is available under
CC-BY-SA
unless otherwise noted.