Raise a Floppa - The Loop
Play Sound
Homestead Furniture Making Contest was a 2007 contest to make furnishings for the then-new Roblox starter place, the Happy Home in Robloxia.[1] It is noteworthy for being the first ever contest and event on Roblox. It began on January 17, 2007, and ended on January 20, 2007.
Entrance Procedure
In order to enter the contest, users had to publish their entry as a model using ROBLOX Studio. Then, the user had to post a link to their model in the Homestead Contest Thread, which was in the Creations Forum.[2] The model needed to have a brief description.[2]
Judging Criteria
Points were awarded to entries on the basis of creativity, construction, attention to detail and attention to scale.[1] The purpose of the contest was to provide new players with cool furniture for their house.
Bonus points
The first user to post a decent description in the Homestead Contest Thread would get bonus points in the judging.[1]
Winners and Rewards
When I started this contest I really was planning to pick just one grand prize winner. I was not anticipating the submission of so many high-quality models. You guys have saved me a lot of time creating all this furniture from scratch, so it seems like the only fair thing to do is to give a customized character to everyone who submitted a model that we actually used.
Grand Prize Winners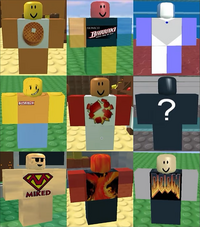 Trivia
This section is a trivia section. Please relocate any relevant information into other sections of the article.
This blog post which announced the beginning of this contest contained the first mention of Happy Home in Robloxia, a place which would go on to be one of the most iconic places in Roblox history due to it being a starting place for new users for a while.
References