Fire Emblem Warriors: Three Hopes - The Loop
Play Sound
Some sections of this page have been collapsed to reduce this article's size. To view them, click on the [Expand] buttons.

The Mid-Summer Night's Sale (or Midnight Sale) was a minor sale on Roblox. It took place on the avatar shop starting on June 21, 2019, and lasted until June 28, 2019. Night-related items were released in 'waves' or individually throughout each day and many of which had timers.
Timeline
Day 1
Day 2
Day 3
Day 4
No items were released, put back on-sale, or discounted on Day 4. This led many people to believe the sale was over.
Day 5
Trivia
This section is a trivia section. Please relocate any relevant information into other sections of the article.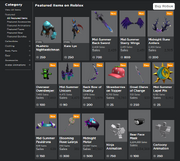 Unlike most waves during this sale, the gap between Wave 7 and Wave 8 during Day 1 was only 11 minutes, while every other waves' gaps were at least 2 hours (with the exception of the gap between Wave 2 and Wave 3 during Day 3 being 1 hour).
In the all of the Roblox history sales, this is the first ever longest sale in Roblox history that took about 1 week compared to other previous sales.