The information on this page is outdated and needs to be updated.
Miked's Paintball Tournament was a paintball tournament held at Miked's Ultimate Paintball on August 24, 2007.
Visors
Tournament Bracket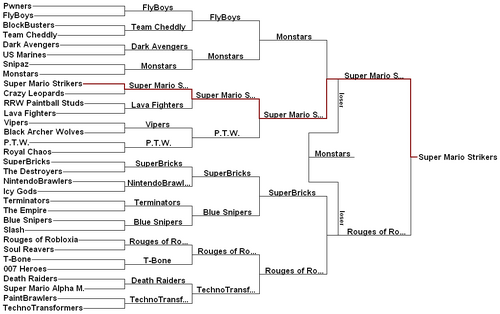 Teams
Pwners
FlyBoys
BlockBusters
Team Cheddly
Dark Avengers
US Marines
Snipaz
Monstars
Super Mario Strikers
Crazy Leopards
RRW Paintball Studs
Lava Fighters
Vipers
Black Archer Wolves
P.T.W.
Royal Chaos
SuperBricks
The Destroyers
NintendoBrawlers
Icy Gods
Terminators
The Empire
Blue Snipers
Slash
Rouges of Roblox
Soul Reavers
T-Bone
007 Heroes
Death Raiders
Super Mario Alpha M.
PaintBrawlers
TechnoTransformers
Winning Teams
Monstars
Blue Snipers
SuperBricks
T-Bone
Super Mario Strikers
MetalMario
Anthropoda
blXhd
Zonji
ape911
Rogues of Robloxia
burgerking
noobertuber
Gamer3D
jacobxxduel
robo646
Monstars
Totti
Vulcan
Waffleboy
Koopa
For the full list of teams with players, click here
Delay
The tournament was originally scheduled to be held on August 11 and 12, but it was delayed until the 24th for unknown reasons. An updated bracket was also made.
Winning a Match
A paintball match consists of two 15-minute halves, with a 2-minute break in the middle. The team that gets the most points overall (so both the first and second half scores are added together) will win the match and progress to the next stage of the tournament. Points are earned the same way as always; +10 for a KO, -4 for a WO, -8 for teamkilling, +2 for standing in the white patch in the middle every 6 seconds. There will be no flags. A team can also win a match the boring way if the other team is disqualified. The other team is disqualified if no players turn up to the match, or if at any point in the match the other team has no players.
Prizes
1st Place
2,500 Robux for each player, Builders Club, Paintball Gun, and a T-shirt.
2nd Place
1,000 ROBUX for each player.
3rd Place
500 ROBUX for each player.
Top 3
1: Super Mario Strikers
2: Rogues of Robloxia
3: SuperBricks