For the gear item, see Catalog:Linked Sword.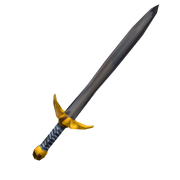 The Normal Sword (also referred to as the Linked Sword) is the most basic sword in ROBLOXia.
It was the last object to be added to the basic BrickBattle loadout. It is found in most (if not all) sword fighting games. Players can slash the sword at other players to kill them. (10 damage on slash, 30 damage on lunge).
From its creation, the normal sword has inspired many more swords, the most prominent of which are the ones in the SFOTH IV Swords.
It is by far one of the most popular weapons in ROBLOX. It was later uploaded as a LimitedU gear on August 2nd, 2013, as the Linked Sword.
Games Made by Administrators that feature the Normal Sword